Why are dogs turning blue in this Mumbai suburb? Kasadi river may hold answers
Aug 17, 2017 01:22 PM IST
The polluted Kasadi river in Navi Mumbai is also likely to affect human health
Untreated industrial waste being released into the Kasadi river may be turning stray dogs near Navi Mumbai's Taloja industrial area blue.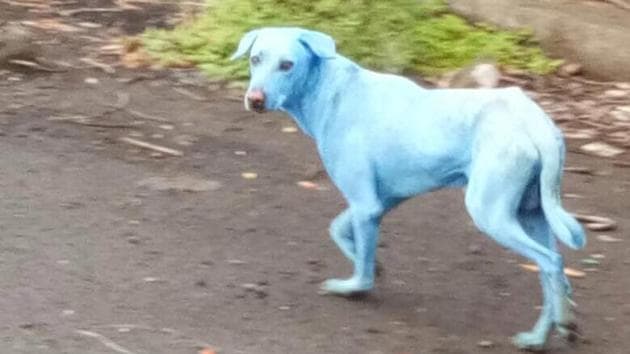 Reason: Strays often wade into the river for food, therefore the waste may be dyeing their fur a bright shade of blue.
Stay tuned with breaking news on HT Channel on Facebook.
Join Now
A water quality test at Navi Mumbai Municipal Corporation found the waste treatment was inadequate. The levels of biochemical oxygen demand (BOD) — the concentration of oxygen required to sustain aquatic life — was 80 milligram a litre (mg/L). Levels of chloride, which is toxic, harms vegetation, aquatic life and wildlife, were also high.
The area has nearly a 1,000 pharmaceutical, food and engineering factories.
The polluted water is also likely to affect human health. According to Central Pollution Control Board guidelines, fish die when BOD level are above 6 mg/L. Levels above 3 mg/L make the water unfit for human consumption.
HT had reported that untreated industrial waste pumped out by the plant had raised pollution levels in the Kasadi River up to 13 times the safe limit.
"After numerous complaints to MPCB over the years, only the stench at Kasadi has reduced. However, the pollution levels continue to be extremely high and dissolved oxygen is negligible," said Yogesh Pagade, member of a local fishing community that conducted the study last year.
On Wednesday, the Navi Mumbai Animal Protection Cell took pictures of a dog whose fur had been dyed blue. The group filed a complaint with the Maharashtra Pollution Control Board (MPCB) on Thursday, saying animals in the area were suffering because dyes were being released directly into the river by industrial units.
"It was shocking to see how the dog's white fur had turned completely blue," said Arati Chauhan, resident of Navi Mumbai, who runs the animal protection cell. "We have spotted almost five such dogs here and have asked the pollution control board to act against such industries."
MPCB officials said they had taken cognisance of the complaint. "Allowing the discharge of dye into any water body is illegal. We will take action against the polluters as they are destroying the environment," said Anil Mohekar, regional officer, MPCB, Navi Mumbai. "We have directed our sub-regional officer to investigate," he added.
Animal rights activists have, however, wondered whether the move comes too late. "We have only spotted blue dogs so far. We do not know if birds, reptiles and other creatures are affected or if they have even died owing to the dye discharged into the air," said Chauhan.
MPCB officials that surveyed the area on Friday said a private company adjacent to the Taloja common effluent treatment plant (CETP) is using blue dye for multiple purposes, including making detergents. "The area is already cordoned off to the public and is in close proximity of the private company. However, five to six dogs entered the site looking for food and got the blue colour on them," said Jayavant Hajare, sub-regional officer, MPCB Navi Mumbai. "We have warned the company owners to ensure no animals can enter again and such an incident should not be repeated."
They have also been told to remove the dye that is being discharged from the company immediately, said Hajare. "We have given the company seven days to clear the pollutants from the site. If it is not removed then we will issue a notice," he said.
In August 2016, fishermen were concerned the polluted river water was affecting fish stock. They collected samples from the discharge of the common effluent treatment plant, which 300 industrial units use to treat their waste.
According to data obtained by NGO Watchdog Foundation through right to information (RTI), there are 977 chemical, pharmaceutical, engineering and food processing factories in the Taloja industrial area, located outside Mumbai, spread across 2157 acres.The industries employ about 76,000 people. Industrial effluents from 347 small and medium-scale industries mostly comprising of chemical, pharmaceutical and food processing are treated at a Common Effluent Treatment Plant. The industries employ about 76,000 people and have an annual turnover of Rs 60,000 crore.