10 years since 26/11 attacks, gaps still exist in security at most railway stations in Mumbai
10 years later, the ISS is yet to be completely installed and there are regular security breaches at railway stations.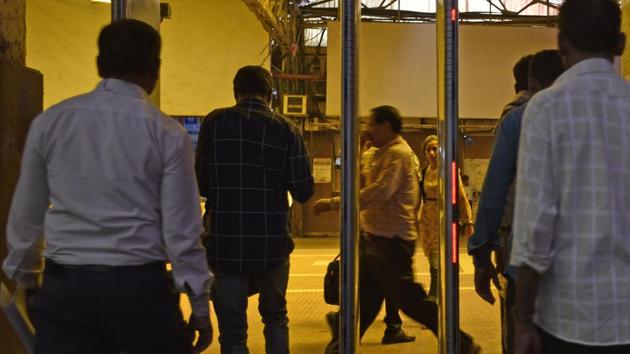 Updated on Nov 23, 2018 09:25 AM IST
Hindustan Times |
, Mumbai
Aroosa Ahmed
Days after the terror attack that targeted Chhatrapati Shivaji Maharaj Terminus (CSMT) on November 26, 2008, the Indian Railways reviewed the security of railway stations in the city. After the inquiry revealed huge security gaps, the Railways introduced an Integrated Security System (ISS), aimed at improving the safety at stations through upgraded technology and infrastructure.
However, 10 years later, the ISS is yet to be completely installed and there are regular security breaches at railway stations. After 26/11, 17 railways stations on Central Railway (CR) and 30 on Western Railway (WR) – including CSMT, Kurla, Thane, Dadar, Lokmanya Tilak Terminus, Kalyan, Pune, Bhusawal, Nagpur, Mumbai Central, Bandra Terminus and Andheri – were identified as crucial stations which would have ISS installed in them. Under ISS, so far, 2,000 closed circuit televisions (CCTV) have been installed at important railway stations in Mumbai. Other security equipment includes handheld devices, door frame metal detectors (DFMD), under vehicle surveillance scanners (UVSS) for vehicles and baggage scanners at the stations.
"Introducing CCTV cameras at the stations has helped not just in solving railway crimes, but also in solving crimes, which have occurred outside railway premises. ISS at railway stations had a deterrent effect as with the help of it, criminal profiling is also being undertaken. UVSS on important stations including CSMT helps us in identifying every vehicle and in a complete inspection of the vehicles entering the stations," said Sachin Bhalode, senior divisional security commissioner, CR.
However, bomb detection and disposable squad (BDDS) teams, which were to be located at the stations identified as crucial, are yet to be formed. Every station also does not have the promised control room, which was termed as crucial under the ISS.
A senior railway official blamed the delay on tedious procurement procedures. "The delay is introducing the system entirely is because of the lengthy procedure of procurement. Further, a lot of aspects also involve infrastructural changes. Formation of BDDS teams is underway and training of our personnel will soon start. Personnel working alongside the dog squad will also be trained," said a senior Railway Protection Force (RPF) official.
Passengers have pointed out that many of the machines introduced for security at stations are non-functional most of the time. "DFMD and baggage scanners at railway stations most of the times do not work. Despite the presence of metal detectors, metal objects are taken inside local and outstation trains," said Subhash Gupta, president of Rail Yatri Parishad.
Even as the first phase of ISS is underway at suburban railway stations in Mumbai, Indian Railways has now started working on phase two. This includes controlling access points to railway stations. The deadline to complete the survey of access points is March 2019.
The railways is also working on syncing bio metric and bio data of anti-social elements from Government Railway Police (GRP) and city police. "A possible threat from an anti-social element entering the railway station from anywhere is much higher at this point as there are multiple entry and exit points to the stations. Limited access and control for the access points will help in improving the safety of the stations in the city. Maintaining a similar data base will help in identifying anti - social elements faster when they enter railway station. Synchronizing work is going on," said an RPF personnel.
Close Story