Maha education board's new evaluation pattern to reduce Class 9 drop-outs flops
Apr 17, 2017 05:21 PM IST
The new evaluation pattern laid down in a government resolution issued on December 31, 2016, to reduce drop-outs, states that schools cannot fail students performing poorly in class 9 exams.
The state school education department's new evaluation pattern for students failing class 9 has flopped, as teachers have not been trained in employing the new teaching style.The state made it a must for schools to hold special classes-teaching through a rapid education method-for students flunking school tests and re-examine them in July. However, schools are unable to following it as teachers are clueless about the new education method. Schools have also demanded clarity on other aspects such as minimum passing criteria for the exams and the number of attempts allowed.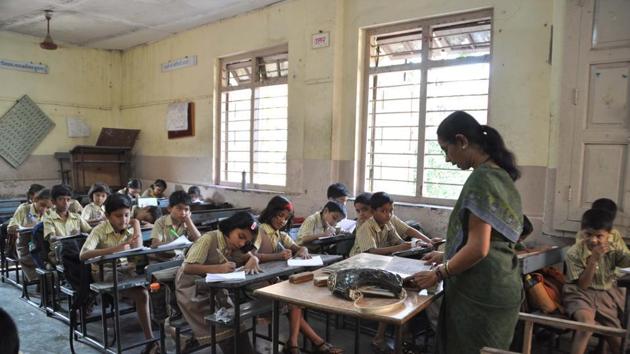 The new evaluation pattern laid down in a government resolution issued on December 31, 2016, to reduce drop-outs, states that schools cannot fail students performing poorly in class 9 exams. It insists that academically weak students must be taught in a different way- in which only important concepts will be covered in an accelerated manner- to bring them on par with other students.
While, this is binding on all schools including ICSE, CBSE and international boards operating in Maharashtra, school principals said that they do not know how to implement it since the department is silent on the particulars of the policy.
With most of schools finishing with their exams last week, they are unsure about what to do with the students who failed class 9. "I had filed right to information (RTI) queries to find out how to enforce the new policy months ago. But I have not yet received any satisfactory reply from the department," said Rohan Bhat, chairperson of the Children's Academy Group of Schools in Oshiwara, Kandivli, and Malad, affiliated to the ICSE board.
Some schools have begun remedial classes, but are not following the rapid education technique. "Since the department hasn't told us how to use the new method, we are holding remedial classes in our own way," said Father Francis Swamy, principal, St Mary's School (ICSE) Mazgaon, and joint-secretary, Archdiocesan Board of Education (ABE) that runs 150-odd schools in Mumbai.
Schools are conducting the re-exams in April or May, even though the policy states that they must be held in July. "Our new academic year begins in June, so we cannot wait till July to hold the re-exams," said Swamy, adding that students who fail in retest will not be promoted to class 10. "We cannot work a miracle in a few months, so we will have to detain students who don't perform well even after receiving remedial education."
Education officials admitted that they are aware about the problems faced by the schools in implementing the policy, and will soon come up with clearer instructions. "We are waiting for the school exams to get over before issuing further instructions as we don't want to confuse schools," said Suvarna Kharat, deputy secretary of the education department.
What the new evaluation pattern states
According to the January 31, 2016, government resolution:
• Starting from this year, re-exams must be held in July for academically weak students in mathematics, science and English, which are usually considered to be tough subjects
• Students will be taught for two months in rapid education method, which involves teaching in an accelerated manner, so that they may attempt the March 2017 Class 10 board exam or Class 9 school exam in April (depending on whether the student has filled the form to take Class 10 exam as a private candidate or is repeating Class 9). Students failing in these exams can appear for re-exam in July.
• Two months training should be divided into 15 days teaching, 30 days self-study and 15 days of revision. Schools can use digital tools such android sticks, personal computers, tabs available at just Rs 10,000 to 12, 000 per classroom and subject experts to enhance the training
• The government must track the number of students failing by asking schools to upload the list of repeaters and students who have taken learning certificate (LC) last year in SARAL-the online database for education-by January 31.
How the department botched up its implementation
• The department hasn't assigned trainers-which were required by the GR-to any of the schools to implement the special programme
• Hasn't collected information regarding repeaters or students who dropped out of school in class 9 last year
Why schools couldn't follow it:
• They did not conduct special programmes for students as per the GR, because the department didn't train teachers in using the rapid education method
• No special training has been given to academically weak students before exams. Instead, remedial classes are being held only after students have failed the regular school exams.
• Schools haven't reached out to students who failed class 9 last year from their school and are taking SSC exams privately.