Maharashtra plastic ban: Mumbai shopkeepers seek more time and clarity
Hindustan Times |
, Mumbai
Eeshanpriya MS and Sagar Pillai
Jun 22, 2018 10:15 AM IST
Plastic manufacturers have failed to switch to alternatives to plastic because it is neither feasible nor profitable.
Demanding clarity from the state government over alternatives to plastic, 54 retail traders' associations in Mumbai have called for a one-year extension before the Brihanmumbai Municipal Corporation (BMC) starts penalising violators.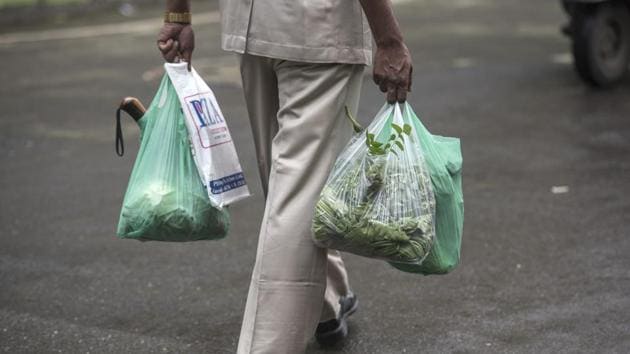 Until this extension is granted, no fines should be collected from retailers for selling products in plastic bags till the monsoon is over, or at least till August 15, said the representatives.
Ramnik Lal Chedda, president of Mumbai Grain Dealers' Association, said, "There is no alternative to plastic packaging during monsoon, especially for food products, dry fruits, grains and textile. If the ban is imposed after one year, we can meanwhile come up with alternatives. We can put forth our demands, probably continue to use plastic with a strong buyback and recycling policy, instead of banning plastic altogether."
After a meeting on Wednesday, the associations, registered under Federation of Retail Traders Welfare Association (FRTWA), wrote to chief minister Devendra Fadnavis and environment minister Ramdas Kadam about their demands.
Viren Shah, president of FRTWA, said, "We have proposed that instead of banning plastic, why not come up with an effective way to collect and dispose the used plastic to recycling units. This is done in all countries."
Among the major demands are exemption to polypropylene bags (transparent plastic bags given at grocery stores) above 50 microns, ban on branded plastic packets too and breather for plastic packaging till August 15.
More than 1,100 shopkeepers attended Wednesday's meeting and proposed these demands. Shah said, "The fine for shop owners is too high — between Rs5000 and Rs25,000. We will not be bullied into paying money as there is no clarity about the banned items. We have decided to move court, if harassed by BMC inspectors."
Grain dealers, chemists, textile traders, jewellery shop owners, plastic manufacturers, electronic goods manufacturers and automotive spare parts manufacturers took part in Wednesday's meeting.
Manufacturers find it hard to switch to alternatives
Even after a six-month breather, plastic manufacturers have failed to switch to alternatives to plastic because it is neither feasible nor profitable.
A city-based manufacturer of plastic straws said he is prepared to shut down his unit because they do not have any other option. "Changing the product and getting new machinery are not feasible. We will fight till the end to save our product from the ban. If it is still not exempted, we will have no other option but to shut down."
Neemit Punamiya, general secretary of the Plastic Bag Manufacturers' Association of India (PBMAI), said switching to alternatives and availability of new machinery are not viable. "We have no plans of manufacturing any alternatives. It is a relief for us that all packaging material has been exempted from the ban. Shifting to alternatives such as cloth bags is not feasible as of now."
Sonil Shah, another member of PBMAI, said he is relieved that packaging material is not part of the banned items. He said plastic manufacturers are holding discussions over the thickness of plastic bags which could be left out of the ban purview. "We will give a presentation to the government in a day or two on the banned plastic items," said Shah.
The state government had issued a notification on March 23, imposing a ban on purchase, sale, distribution and storage of single-use disposable plastic. Following this, the state decided to give extension of another two months to people for disposing of the banned plastic items. Implementing authorities such as the BMC cannot start punitive action till June 23.