Mumbai: Air India's green mission takes off, 3,500kg organic waste recycled
Published on Feb 27, 2017 12:52 AM IST
200 volunteers from various departments have been carrying out vermicomposting in the Air India complex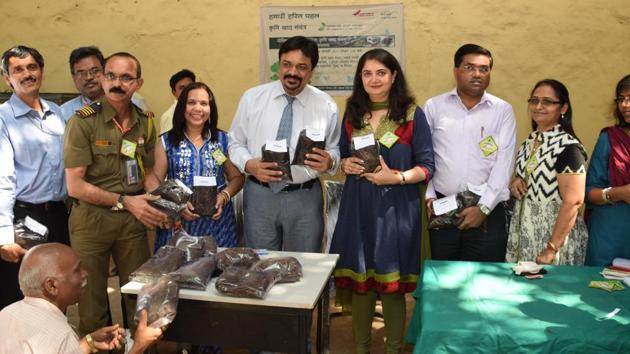 In less than a year, the environment wing of the country's national carrier in Mumbai has converted more than 3,500 kg of garden and kitchen waste into 500kg of organic manure, thereby saving it from going to overburdened dumping grounds.
In an attempt to find alternative means of disposing green waste, close to 200 volunteers from different departments of the old airport complex and Air India building, Kalina, have been carrying out vermiculture - using earthworms for generating compost, referred to as vermicomposting – within the complex.
Segregating and recycling waste at source is essential because recurring fires at the city's dumping grounds in 2015 and 2016 were caused by mixed toxic garbage catching fire owing to high methane content. Apart from a host of pollutants released in the air when mixed garbage burns, liquid residue from the charred remains can contaminate ground water.
On Friday, Air India culminated their year-long effort by sharing the entire 500kg of organic manure with employees, which will be used for tree plantation and gardening within the complex. "This is a first for the airline, as our employees have voluntarily participated in this project with a commitment towards spreading awareness about energy conservation and recycling of natural resources," said Mukesh Bhatia, regional director, western region, Air India.
Their efforts gain significance as according to Brihanmumbai Municipal Corporation's (BMC) Environment Status report of 2015-16, the city generates 30.96 lakh tonnes of trash annually. Of this, the civic body had a target of recycling 24.76 lakh tons in 2015. However, the solid waste management (SWM) department managed to recycle only 74,304 tonnes. This means, as against BMC's target of recycling 80% of the city's waste in the last financial year, they only managed to touch the 3% mark.
Additionally, only 5% of housing societies and educational institutions in Mumbai segregate waste and 2% are composting waste at source, according to BMC.
On March 22 last year, the Air India team visited the BMC ward office at Andheri to study and obtain information for setting up of vermiculture units. The team understood the process for setting up vermiculture crates with the help of NGO Hariyali and procured earthworms to start the process. "The ground work for fabrication of crates was started using scrapped material from its own premises to reduce costs. Four units were commissioned and we began recycling garden waste," said an Air India employee.
Inside the crate, the first layer has dried leaves and other horticultural waste followed by discarded coconut shells. The second layer has residual manure that houses earthworms and the top layer has discarded kitchen waste. "We water the mixture thrice a day for the earthworms to have enough moisture to slowly break the waste down," said the employee.
Air India officials added that the project will help reduce carbon footprint. "It will help prevent air pollution due to burning of dry waste, and reduction in carbon emissions resulting from transportation of the waste to the dumping ground," said Harpreet Singh, chief of flight safety and head of corporate quality, Environment Management Systems. "The result is 100% natural manure free from chemicals, which will result in a healthier atmosphere."
AUTHORITIES SPEAK
"It is a commendable model setup by the Air India team to show maximum utilisation to recycle waste at source. There has to be a cumulative effort from other societies and institutes to initiate such practices that not only reduce the burden from dumping grounds but improve the city's air quality," said a senior official from BMC's SWM department.
What is Vermiculture?
Vermiculture is a process of recycling organic waste resulting in compost as a resource. It is initiated with deep burrowing earthworms and aerobic bacteria (organisms that can survive and grow in an oxygenated environment), which are used to disintegrate waste and make it fully biodegradable.
Benefits of Vermiculture
· Compost is available for use in plants and as potting mixture
· Waste recycled into useable material close to the source
· Eliminates transportation of waste to far off places
· Reduces air pollution
· Reduction in the need for landfill sites outside city limits
Vermicomposting: step-by step
· Before the dumping begins, a hand full of earthworms and some eggs are placed at the bottom of pits
· The waste is collected, dumped into the pit and spread evenly
· The waste is left in the pit for four to five months
· The compost is taken out and strained to get fine powder
· The pH (hydrogen Ion concentration) levels are checked to find out if the manure is neutral
· The manure is then used it in open spaces like lawns, gardens and even potted plants
Earthworm facts
Polypheritima Elongata, Eisenia fetida, Eisenia andrei and Lumbricus rubellus are the earthworm species most commonly used in vermiculture
They are referred to by a variety of common names, including red worms, red wigglers, tiger worms, brandling worms, and manure worms.
Close Story
Personalise your news feed. Follow trending topics