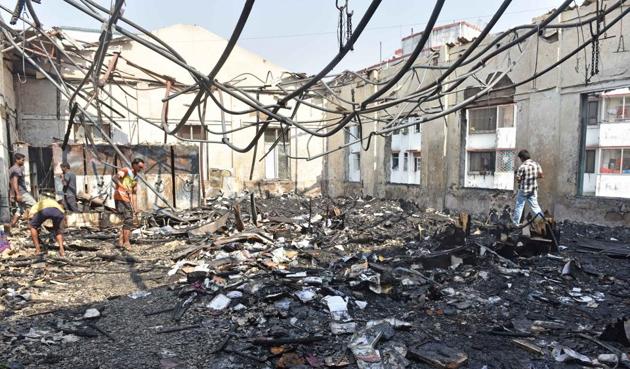 Alumni help set up makeshift library after Sydenham fire
Members of Sydenham Institute of Management Alumni Association (SIMAA) have pledged to not only help the institute rebuild their library, but will replace some of the books within one a week as an immediate relief measure...
UPDATED ON DEC 27, 2016 12:15 AM IST
A day after a major fire gutted the library of Sydenham Institute of Management Studies, Research and Entrepreneurship Education (SIMSREE) in Churchgate, the teaching staff and management donated books and set up a makeshift library for students.
While classes were suspended on Monday owing to a lack of electricity, the institute has decided to conduct regular lectures from Tuesday.
Initially, the college had decided to call off lectures this week, but as electricity in all classrooms — except the library — has been restored, students agreed to attend class from Tuesday itself.
College authorities assessed the situation and found that rebuilding the library will cost almost Rs3.5 crores.
On Sunday evening, members of Sydenham Institute of Management Alumni Association (SIMAA) pledged to donate to the cause.
On Monday, state principal secretary of higher and technical education, Sitaram Kunte, visited the campus and pledged monetary help from the government as well.
"While rebuilding the campus will take time, we have put together a list of books that we need urgently, especially for our second, fourth and sixth semester students who will need books for their upcoming exams. Thankfully all professors donated a few books on Monday and we managed to set up a makeshift library of more than 500 books in our seminar hall," said Prathik Shetty, joint chairperson of Sydenham Management Association (SMA).
Until Monday evening, the SIMAA had donated Rs5 lakh to the institute to cover the initial expenses for books. Other alumni have requested the alumni association for the institute's bank details in order to raise donations.
"Ware happy and grateful to our alumni, as well as the government, for helping us during out time of need. We hope that to get the institute functional again in no time. We will go all out to ensure that our students' studies do not get affected by this incident," said Manoj Bhide, director (in-charge), of SIMSREE.
Also read
Fire destroys Sydenham management institute library in Mumbai
Close