Mumbai commute: Google Maps mobile app to help you avoid traffic on your way to Metro
While the Metro is one of the fastest modes of transport in Mumbai, this will make trips to and from the Versova-Andheri-Ghatkopar corridor even faster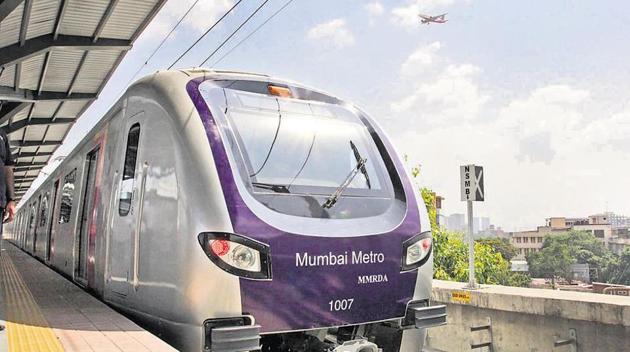 Updated on Apr 23, 2017 01:44 AM IST
If you travel on the Mumbai Metro's Versova-Andheri-Ghatkopar line and own a smart phone, you can now use Google Maps to check train schedules and even peek inside some of the stations using the app. Mumbai Metro One Pvt Ltd (MMOPL) has tied up with tech giant Google to provide timetables and geographical information, including the internal layouts of stations, for your convenience. Apart from accurate train schedules, you can also check the location of ticket counters, lifts, escalators and shops from Google Maps. The feature is available on both the Android and iOS (iPhone) versions of Google Maps.
According to MMOPL, this will help commuters plan their journeys better. While other apps do provide Metro timetables, the schedules and not provided by MMOPL. "The schedules on such apps are taken from whatever is available in the public domain or is based on the estimated frequency of trains. We have provided Google with the schedules from our system so the timings will correspond to the services," said an MMOPL official.
The official said that if a commuter travelling from Chembur to Andheri enters in his destination on Google Maps, he or she will be shown the route from Chembur to Ghatkopar, which is a default feature of the app, and the corresponding Metro train timings from Ghatkopar to Andheri.
To view the schedules, all you need to do it touch the desired Metro station in the Google Maps smartphone phone app and tap on 'Metro Services'. "With this tie-up we have taken another step towards digitising Mumbai Metro One," an MMOPL spokesperson said.
In addition to train schedules, Google Maps also includes with internal maps of metro stations so that commuters can check the location of entries, exits, escalators, lifts and other facilities. This feature is currently available only for Versova station. There is also an option to display all three levels of the station — road level, concourse level and platform level. This is a part of Google's 'indoor maps', which shows users the insides of various large establishments such as airports and malls.
An MMOPL official said indoor maps of the other 11 stations will be uploaded in a couple of months. "We have provided maps to Google and they are in process of uploading them. Currently, commuters can access indoor maps for Versova station. Details of other stations will be added in a month or two," the official said.
Close Story