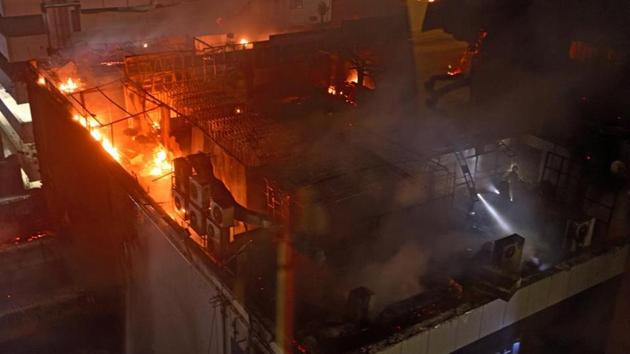 Mumbai Kamala Mills fire: Restaurants take fire safety rules lightly
The complex procedure to obtain permissions to start and continue with the business has led to various malpractices.
PUBLISHED ON DEC 30, 2017 03:35 PM IST
The Kamala Mills fire has highlighted how restaurant owners flout fire safety regulations.
In the past few years, Mumbai witnessed a boom in restaurants, pubs, bars and lounges, with industrial areas being turned into commercial zones.
The complex procedure to obtain permissions to start and continue with the business has led to various malpractices — either the owners violate/ignore rules themselves or they do so in connivance with the authorities. There have hardly been any cases where an establishment was shut down for violation of rules.
For instance, once a restaurant is opened, the fire brigade officials visit the premises and give a no-objection certificate (NOC). After that, every year, restaurants renew their licences. The health department internally asks for clearance from the fire brigade before issuing the licence.
"No one inspects the fire safety equipment, but we get the licence anyway," said a prominent hotelier.
Even the fire audit is voluntary, and a majority of restaurants refuse to do it.
Savio D'sa, a bar consultant who has set up several pubs in the city, said the whole system is designed to favour corrupt practices. "There are many old rules that need to be scrapped. The hotelier spends crores of rupees to get the place, furnish it and is desperate to get approvals. Officials take advantage of the situation and safety takes a back seat. The focus is to okay the plan irrespective of consideration for space and safety," said D'sa.
The rooftop restaurant where the fire broke out was never meant for commercial purposes. "A majority of rooftops have just one entrance and that too small, thus putting the emergency exit out of question. The hoteliers submit a plan showing all systems, but the ground reality is starkly different," said Ashraf Khan, president, Youth Voice, who has complained of several such violations.
In 2016, under the Ease of Doing Business, the state government took away the power of the police department and shifted it to the local ward office's health department.
"As the pubs operate at night, the BMC officials who leave home in the evening do not conduct any inspection. This has given the owners a long rope to violate rules," said Khan.
The National Restaurant Association of India (NRAI) said it was advocating faster approvals but with safety as priority. "It is difficult to do business considering it takes six to eight months to get approvals to open a restaurant," said Riyaz Amlani, Member, NRAI. However he said that safety should not be compromised.
"The safety rules can be complied with and should be done," he said.
Close