Mumbai Parsis offer 'solution' to prevent Metro-3 tunnel from passing under their shrine
Hindustan Times |
, Mumbai
Yesha Kotak
Nov 29, 2017 10:46 AM IST
Community proposes that MMRC reduce space between two tunnels by 20 feet so that one of it does not pass under Wadia Atash Behram on Princess Street
Offering a 'solution' to their objections against the Metro-3 tunnel that passes under Wadiaji Atash Behram on Princess Street, Parsis have suggested that the space between the two tunnels be reduced by 20 feet so that they do not pass under the fire temple.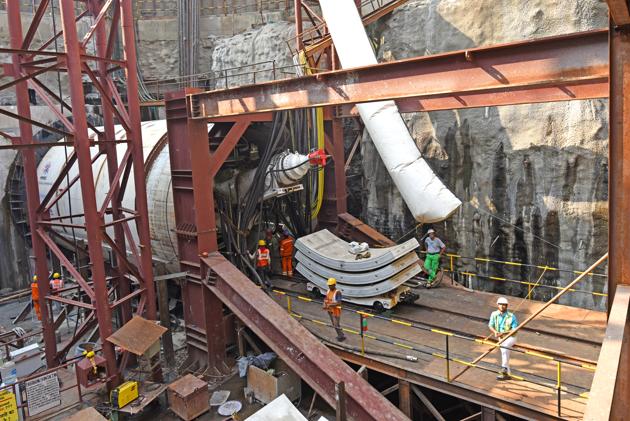 While the issues of trustees of Bhikha Behram well in Churchgate, another Parsi shrine, which will have the Metro tunnel passing close to it have been resolved, with the Metro authorities promising to undertake measures to ensure that the 300-year-old well does not dry up during the tunnel construction, the dispute about the Princess Street fire temple is yet to be resolved.
The community has been protesting against the tunnel for the last one month on the grounds that the construction would affect the holy fire at the temple.
Former Bombay Parsi Punchayet (BPP) trustee Dinshaw Mehta, Bhikha Behram well trustee Viraf Kapadia and trust architect Jehanbux Billimoria met Mumbai Metro Rail Corporation Limited (MMRCL) chief project manager Ravi Kumar on Tuesday. They prosed that the space between the two tunnels be reduced to 109 feet from the planned 129 feet. This will ensure that the tunnel does not pass under the shrine, they said.
The members are of the opinion that the tunnel would thus move outside the boundary wall of the agiary, and solve their "religious problem". Mehta went on to add that it was observed that at certain places in Girgaum, the space between the two tunnels was 50 feet, hence the proposal to reduce the width could be taken into consideration at Princess Street too.
"We were given a patient hearing by the authorities, but they need two weeks to discuss the proposal with their engineering team, post which we will approach them again," said Mehta.
This comes two days after the members Parsi and Christian communities met at St Teresa's High School, Charni Road, to find a possible solution of the problems faced by both the communities. The metro tunnel runs underneath St Teresa's Church too. The church is an 18th century structure.
Around two weeks ago, trustees of the Bhikha Behram well wrote to MMRCL demanding a fresh survey of the structure and asking for installation of piezometer in the vicinity to check if the water level in the well was maintained. In its reply on November 27, MMRCL assured that they would conduct a fresh survey of the heritage structure and take precautions when tunnelling is done.
"The problem at Bhikha Behram well has been solved. We hope that the authorities consider the proposal at Wadiaji Atash Behram too. After all we are not against development, and want a solution that is feasible for both," said Kapadia.
There was no response from MMRCL spokesperson. However, representatives who met the officials said that they had received a "positive reaction" from them.