Bad roads claim 2 more lives in Mumbai, residents take to protests
Hindustan Times |
, Mumbai
Sajana Nambiar, Pranab Jyoti Bhuyan and Debasish Panigrahi
Jul 14, 2018 11:25 AM IST
Two bikers die after they hit potholes in Kalyan and Navi Mumbai; mishaps again highlight civic bodies' indifference towards repairing roads.
Potholes continued to claim more lives in Mumbai's satellite towns of Kalyan and Navi Mumbai as two bikers were killed on Friday. The fatalities again highlight indifference of civic bodies in providing good roads.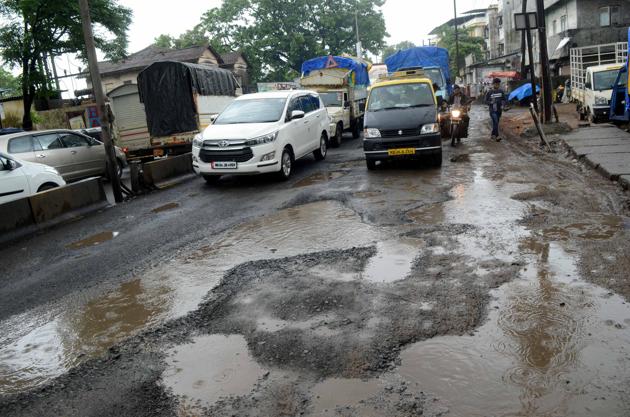 A 26-year-old man was crushed to death by a trailer after he fell off his two-wheeler in Kalyan on Friday. This is the fifth such incident in Kalyan, 45km north of Mumbai, since the monsoon and the fourth in the last week.
Kalpesh Jadhav, a resident of Nandkar village in Bhiwandi, had come to Kalyan around 2am for some work. While he was returning, he lost his control over the bike after it hit a pothole on the approach road to Gandhari bridge on Kalyan-Sape road at Chanakya Nagar in Kalyan (West). He came under the trailer and died on the spot. The road was slippery owing to rain. The driver of the trailer fled, said, BA Kadam, senior inspector of Khadakpada police station.
Jadhav, who wedded recently, earned his living by supplying construction material. The accident spot was 4.3 km away from his residence at Nandkar village in Bhiwandi.
Officials of Khadakpada police station filled the deadly pothole with sand, pebbles and brick pieces using a JCB after the death.
"We filled potholes to prevent such incidents. This particular route has continuous vehicle flow between Kalyan and Bhiwandi," added Kadam.
Staying true to its usual apathy, the Kalyan Dombivli Municipal Corporation (KDMC) swung into action after one more death. KDMC officials, including its chief Govind Bodke, visited the spot and perfunctorily promised to fill the potholes on the bridge.
The bridge is a major connecting link between Kalyan (West) and Bhiwandi.
Under the supervision of deputy commissioners, the Thane police will probe the five deaths.
Joint commissioner of police, Thane, Madhukar Pandey said they will investigate any criminal negligence on part of road contractors. The police may invoke section 304 A (causing death by rash and negligent act) or section 304-II (culpable homicide not amounting to murder) of the IPC, in extreme cases.
In the other incident in Navi Mumbai, a 27-year-old biker died while another suffered severe injuries after their vehicles hit potholes on Thane-Belapur road near Turbhe in early on Friday.
According to the police, Sunny Kumar Vishwakarma, a resident of Ulwe, and Kamlesh Yadav, 28, a resident of Nerul, were returning home from Turbhe. They were riding two different bikes.
KD Raul, assistant sub-inspector from Sanpada police station, said, "Vishwakarma's father owns a shop at Turbhe Janata Market. The duo was returning home from the shop. As they were crossing the stretch near Turbhe traffic office below the flyovers around 2am, their bikes hit two separate potholes."
"Vishwakarma suffered severe injuries at different parts his body. He was declared dead in a nearby hospital. Yadav also suffered injuries and was taken to DY Patil hospital in Nerul. He is still under observation," he said.
According to Raul, the police have found a helmet from the spot. "We suspect that the deceased was not wearing the helmet. He may have survived had he been wearing it," he said.
KALYAN RESIDENTS MIFFED, PLAN PROTESTS AGAINST CIVIC BODY
Residents of Kalyan who took to protesting after a pothole again claimed a life on Friday have now decided to intensify their demonstration against the Kalyan-Dombivli Municipal Corporation (KDMC).
Kalyan-based activist Sreeniwas Ghanekar, 52, distributed sweets to the KDMC employees remarking that he reached safely on his bike despite pathetic road conditions on Friday evening. "We have learnt that the civic body is neglecting our demands. We will soon come up with a protest plan against it," he said.
The residents have been holding several meetings to discuss their line of action against the civic body. They are also considering taking up a legal battle against the KDMC.
On July 9, Kalyan residents protested against the civic body at the Shivaji-Chowk accident spot. It was where five-year-old Aarav Atharvale fell and was run over by a truck last month after his father's bike skid because of a pothole. His father, Mahesh, 32, said, "I have been trying to forget the incident but due to more pothole deaths, I am not able to overcome the pain. No action has been taken against KDMC engineers and contractors. It is injustice towards us."
The civic body had assured residents a meeting with the officials of Maharashtra State Road Development Corporation (MSRDC), Maharashtra Industrial Development Corporation and the Mumbai Metropolitan Region Development Authority. However, the residents were not called for any meeting by KDMC chief Govind Bodke.
Residents claimed that none of the spots where accidents took place has been repaired by the civic body. "There is no pressure on the civic body by the elected representatives of Kalyan-Dombivli. This is why we residents are forced to raise our voice," said Rupesh Mane, 35, a resident of Agra Road, Kalyan (West).
On Friday morning, KDMC commissioner met the residents of Dwarli village after a pothole claimed the life of a 45-year-old man at Dwarli Naka, Haji Malang Road, Kalyan (East). The village residents gave consent for the KDMC to continue concretising the Haji Malang stretch (the work was stopped because some said they were not compensated enough). "We will also fill the potholes on this stretch with immediate effect," said Bodke. "The remaining spots where accidents took place are also being repaired. The Kongaon spot will be looked after by MSRDC."
Residents have decided to conduct a dhol-tasha andolan outside the KDMC commissioner's bungalow on July 21.
Sajita Nair, 37, a resident of Adharwadi, Kalyan (West), said, "Somewhere down the line it is citizens' responsibility to act against the authorities who are doing nothing about it."