Mumbai's mangroves to be cordoned off by 10-foot compound wall
Apr 07, 2017 11:04 PM IST
The Maharashtra Coastal Zone Management Authority (MCZMA) permitted the state mangrove cell, during a meeting on Wednesday, to construct 2.6-metre (10-foot) compound walls across the 5,800 hectare mangrove cover in Mumbai.
n the wake of 63 cases of destruction of mangroves in Mumbai from January to March this year, the state has upped its efforts to protect mangrove trees.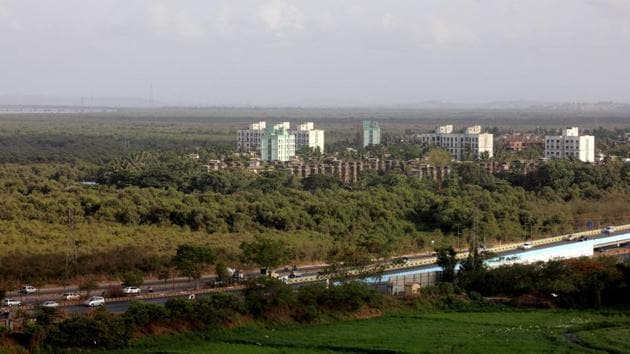 During a meeting on Wednesday, the Maharashtra Coastal Zone Management Authority (MCZMA) permitted the state mangrove cell to construct a 10-foot-high compound wall across the 5,400-hectare mangrove cover.
Stay tuned with breaking news on HT Channel on Facebook.
Join Now
However, environmentalists have raised doubts about the flow of tide water to the mangrove areas that might end up destroying the trees.
Mangroves are salt-tolerant plants, trees, shrubs or ground fern of tropical and subtropical intertidal regions of the world. They are a breeding ground for a variety of marine animals.
Apart from controlling floods, they absorb carbon dioxide by making air cleaner to breathe.
Mangrove cell officials said they will be starting the fencing process in areas most prone to encroachments.
"Areas along the western and central suburbs of Mumbai such as Manori-Gorai, Marwe, Kandivli, Borivli, Charkop, Chitta camp, Kannamwar Nagar, and some parts of the eastern suburbs, will be the areas where the walls come up first," said N Vasudevan, additional principal chief conservator of forest, state mangrove cell.
Currently, Mumbai has 5,800 hectares (ha) of mangrove cover – 4,000 ha on government-owned land and 1,800 ha in private areas. While Navi Mumbai and the eastern end of Thane creek have a cover of 1,471 ha, the western bank of Thane creek has 1,500 ha.
On January 16, HT had reported that the state forest department had tied up with the Indian Space Research Organisation to track mangrove destruction through real-time satellite imagery across Maharashtra, a first in India.
Mangrove cell officials added that once the fencing process is complete, CCTV cameras will be installed along the boundary walls of the mangrove patches. "We will use our satellite-based technology to monitor these areas closely once they are cordoned off. Additionally, our department will have more officers on patrolling duty," said Makarand Ghodke, assistant conservator of forest, state mangrove cell. "We will ensure that not a single source of natural water feeding the mangroves. will be blocked," he added
Environmentalists said that the entire wetland needs to drain properly and tide water will be blocked by the walls inadvertently. "The wall will surely interfere with the natural flow of water and this is not acceptable. They can use the same method used along the eastern expressway by fencing the areas using barbed wire, which will not only stop violators from entering and also allow tide water to flow in," said Stalin D, director, NGO Vanashakti. "Nowhere across the world have mangroves been protected by walls."
63 cases of mangrove destruction from Jan to March
In the first three months of this year, Mumbai has seen 63 cases of mangrove destruction –
· 57 cases at mangroves located on private land (under the revenue department) and
· 6 cases on government land (forest department)
· Violators have gone undetected as no arrests have been made in any of the cases yet.
· First-information-reports (FIRs) were filed in all six cases on government land
· No action yet taken yet on cases on private land
· Last year between April and December, Mumbai saw 244 mangrove destruction cases with no arrests or convictions in all cases.
(Source: Mumbai Mangrove Conservation Unit under the state mangrove cell)
What the law states
The destruction of mangrove forests across the state and construction within 50m of mangrove areas was banned by the Bombay high court in 2005, after a public interest litigation (PIL) was filed by the NGO Bombay Environment Action Group. In 2014, after Vanashakti filed another PIL on the protection of wetlands, the HC banned all reclamation and construction on wetlands.
Read
Mumbai wetland destruction: 5-acre wetland patch destroyed through debris dumping, Thane collector to ensure action