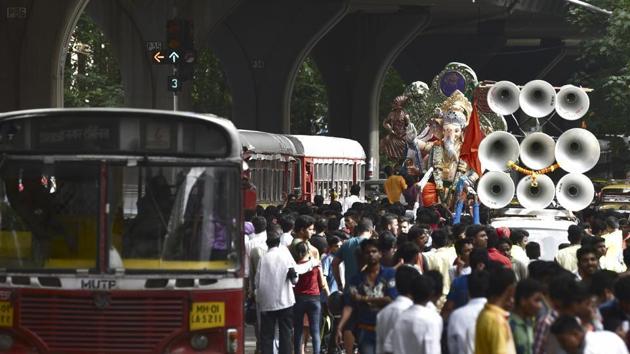 Ganesh Chaturthi celebrations: No Bollywood music, DJs at Ganpati pandals in Mumbai
Loudspeakers can only be used for traditional music during the day and aartis (rituals)
UPDATED ON AUG 28, 2017 09:10 AM IST
The Brihanmumbai Sarvajanik Samanvay Samiti (BSGSS), umbrella body of Ganesh mandals, on Wednesday asked all pandal owners not to play Bollywood music or get disc-jockeys (DJ) for celebrations.
With the recent amendment to the noise rules, Mumbai's 1,537 silence zones in Mumbai, identified by the Brihanmumbai Municipal Corportaion (BMC), have been abolished. The use of loudspeakers is allowed in these areas.
"The idea is to celebrate the festival without causing inconvenience to others," said Naresh Dahibhavkar, president, BSGSS. "We will not tolerate loud and vulgar Bollywood music that takes away the sanctity of the festival and violates noise norms. The mandals will be pulled up if we receive any complaints."
Loudspeakers can only be used for traditional music during the day and aartis (rituals). "We have allowed the mandals to use dhols, banjos and drums, but not after 7pm," he said.
Representatives of various mandals in the city said they will follow the guidelines. "We only use loudspeakers to give directions to devotees. Our noise levels don't cross 50 decibels (dB). There has been no music, DJs or any other form of nuisance at our mandal for the past 83 years ago," said Balasaheb Kamble, president, Lalbaugcharaja Sarvajanik Ganeshotsav Mandal.
"We will only use dhol tasha," said Ramesh Kale, president, BD Ambekar Marg (Kalewadi) Sarvajanik Ustav Mandal, Parel.
Meanwhile, Shree Sarvajanik Ganeshotsav Mandal, Kastur Park in Borivli said they will use a DJ system, but will ensure noise rules are not violated. "We are against getting idols that are taller than 8ft and high noise levels. The DJ has been instructed to play religious music only and no Bollywood songs," said Subodh Kirloskar, member of the mandal.
"There have been serious violations during festivals over the last 14 years across the city. However, last year the mandals reduced the decibel levels during the night by refraining from getting DJ systems. We witnessed a drop in noise levels during dahi handi, we hope something similar happens during Ganeshotsav," said Sumaira Abdulali, convener, Awaaz Foundation.
Close