Pesticide poisoning in Maharashtra: 49 farmers fight for their lives
Opposition, farmer leaders, locals blame the state government for failure to act in time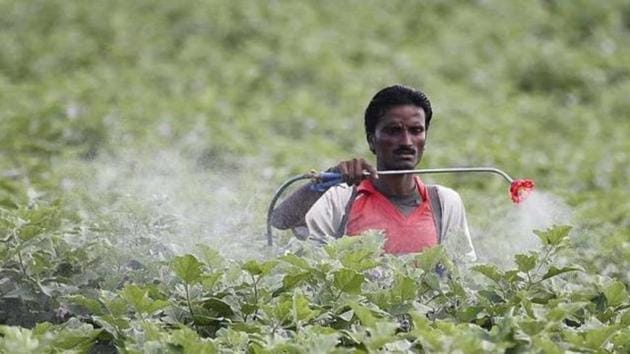 Updated on Oct 09, 2017 01:39 PM IST
Two months after the first death owing to pesticide poisoning – inhalation of the chemical sprayed on crops – in Yavatmal, seven farmers from the region are on ventilator support, while two others are in critical condition. The condition of 40 farmers from Akola, Nagpur and Buldhana districts is critical.
In the past two months, 19 people have died of pesticide poisoning in Yavatmal. Twenty-five farmers admitted to the Government Medical College in Yavatmal have lost vision, while 800 have been hospitalised with complaints of dizziness, diarrhoea, vomiting, stomachache, among others. Most of them are farm labourers, who take up the hazardous job of spraying pesticides to earn extra money.
Pesticide poisoning deaths have also been reported in districts of Akola, Amravati, Buldana, Nagpur and Bhandara.
Locals, farmer leaders as well as the opposition blamed the Maharashtra government for failing to act in time.
Devanand Pawar, a farmer leader from Yavatmal, told HT, "Two farmers are in the intensive care unit (ICU) in critical condition."
Kishore Tiwari, from the Maharashtra government-run Vasantrao Naik Sheti Swavlamban Mission (VNSSM), said, "Many patients are in critical condition in the Nagpur Medical College and Akola Medical College. The death toll in these districts could rise."
Yavatmal district is part of the drought-prone Vidharbha region that registers the highest number of farmer suicides.
Dhananjay Munde, leader of Opposition in the Legislative Council, visited Yavatmal on Sunday. "Despite hailing from Vidarbha, chief minister Devendra Fadnavis neither visited Yavatmal, nor did he offer condolences to the family of the farmers. Is he so busy," Munde asked.
The Maharashtra government recently ordered the additional chief secretary (home) to carry out a probe into the incident and submit a report within 15 days, in addition to another probe into the quality of the pesticides. "The companies that marketed the unauthorised pesticides will be booked," Pandurang Fundkar, state agriculture minister, told HT.
Fundkar last week admitted the district administration had failed to inform the state government about the cases in Yavatmal. Navnath Kolapkar, superintending agriculture officer, Yavatmal, said the pesticides were regular compounds and not a new brand.
Farmers in Yavatmal, 670km from Mumbai, primarily grow cotton and lentils and use a highly potent mix of pesticide to save the crop from pests. "These pesticides are both in liquid and powder form. The farmers don't use gloves or goggles to protect themselves while spraying pesticides," said Narendra Fulzele, residential deputy collector, Yavatmal.
According to Fulzele, last year too there were six deaths owing to pesticide poisoning.
"The extreme heat in the area could have made the pesticide more lethal this year. When the pesticide is sprayed, it comes in contact with skin. It enters the body, as it mixes with sweat," Kolapkar said.
Close Story