Plan to appear for JEE or NEET exams next year? You will need Aadhaar card
Dec 11, 2017 11:12 AM IST
Authorities released a statement earlier this year for all candidates, insisting on Aadhar details for JEE-Main 2017 and CBSE's NEET
Aspirants planning to appear for competitive exams in 2018 could face trouble if they do not have Aadhar cards, as furnishing Unique Identification (UID) number has been made mandatory while registering for exams for some of the most sought after courses. Taking this into consideration, various city colleges are arranging workshops to understand the process or even setting up helpdesks to help students apply for Aadhaar cards.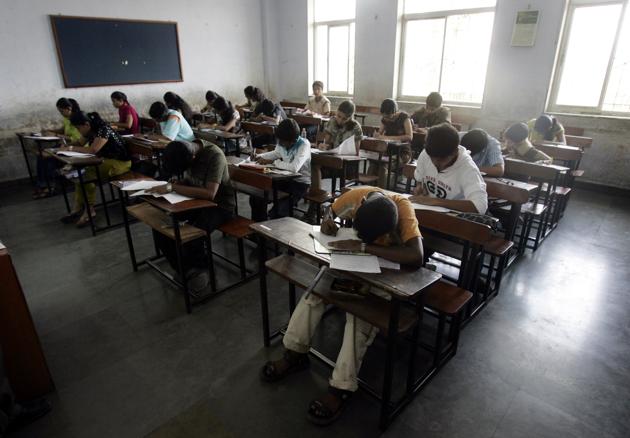 "We realised that not just students, but some of our staff were yet to apply for Aadhaar card, which is worrying. So we set up an application desk on the campus last week," said Naresh Chandra, principal of Birla College in Kalyan. He added with government making it mandatory to link Aadhar card with bank accounts, staff took the issue seriously.
Earlier this year, the Joint Entrance Examination (JEE) authority released a statement for all candidates, insisting on submitting Aadhaar card details for JEE-Main 2017. Extra centres were set up at Central Board of Secondary Education (CBSE) schools across the country to facilitate students with the process.
The CBSE, which conducts National Eligibility-cum-Entrance Test (NEET), also informed the interested candidates that henceforth they would be required to submit their Aadhaar card details to register for the examination. The board will be validating the information provided by the applicant with the government's Aadhaar database and if the particulars do not match, the applicant will not be allowed to fill the online form.
READ: JEE-Main 2018: CBSE to allow diabetic students to carry fruits, water inside exam halls
"We've been busy with the examinations, but there have been many requests from students who still haven't applied for Aadhar cards. We don't want any of our students to suffer because of their lack attitude so the plan is to arrange for an application desk on campus in the next couple of weeks," said Sobhana Vasudevan, principal of RA Podar College, Matunga. She added that most junior college students (classes 11 and 12) have already got their cards in place, however, degree college students are the ones who have not yet applied for the same.
Another city college had recently sought help from a mobile service provider to set up a desk in college in order to help staff and students link their phone numbers to their Aadhar cards.
"We realised that this process has to be done with at the earliest, so we chose to set up a desk in college for everyone who has not completed this process. The response was positive," said Anju Kapoor, principal, UPG College, Vile Parle.