Shiv Sena to stage protests over BJP's Jaitapur nuclear plant project
Updated on Apr 20, 2017 12:23 PM IST
Shiv Sena leaders said they will not permit allow any vehicle or machinery to reach the site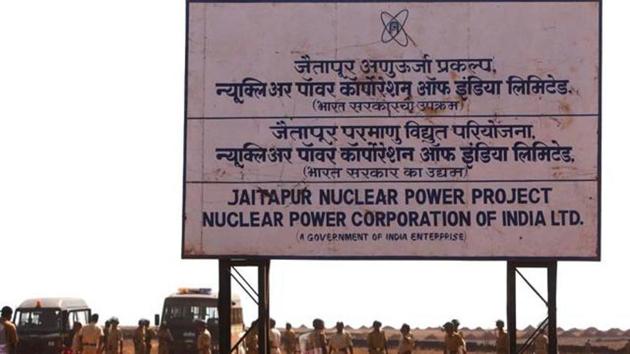 The Bharatiya Janata Party (BJP) and the Shiv Sena are likely face off over the Jaitapur nuclear plant once again. While chief minister Devendra Fadnavis met the French government on Tuesday, asking it to submit a time-bound programme detailing how the 9,900-megawatt power plant will be constructed, the Shiv Sena said it will step up protests against the plant.
Shiv Sena leaders said they will not permit allow any vehicle or machinery to reach the site. In 2008, the party had spearheaded an agitation to oppose the project, while the process of land acquisition was ongoing. In contrast, the BJP had maintained a neutral stance on the issue.
Though opposition to the project slowly died down when it did not move forward, the recent meeting between Fadnavis and a delegation of the France government has led to widespread resistance once more.
"We had never let the voice of dissent die down. We held a protest at Jaitapur to mark the sixth death anniversary of the protester who was killed by police firing," said Rajan Salvi, Shiv Sena's Rajapur MLA.
"Party chief Uddhav Thackeray has also clarified the Sena's stand. We will not allow a single vehicle to reach the spot," he added.
Fadnavis had asked the French delegation led by Christian Masset, general secretary, ministry of foreign affairs and international development, to clarify how safe the project would be. He expressed concerns over the amount of the power the plant could generate.
"The government has never addressed our issues over the safety of the plant. The government of France claims that it has implemented such projects suing European pressurised reactors, which are safe. If that is the case, it should clarify why its projects in three countries, including Finland and China, have been stalled," said Satyajit Chavan of the Janhakka Samiti, which has been fighting for the rights of the locals.
"When the Centre asked the French government about these three projects it did not respond. The company implementing the project claims that its fee is competitive, which is untrue. Nuclear power costs about Rs15 a unit, compared to solar power, which costs Rs5. The installation cost of the project is also high," he added.
Organisations leading the agitation are also wary. "In 2008-09, landholders and the fisherfolk had backed the movement as they expected the plant to affect them. However, the situation has changed now. Most of these landlords opted to receive financial compensation for the land as they lost the will to oppose the project. We are also worried about whether the Shiv Sena will back us whole-heartedly," said an activist, who did not wish to be identified.
"Most of the landowners who were compensated are residents of Mumbai and Pune. We have the support of fishermen and other locals," said Salvi.