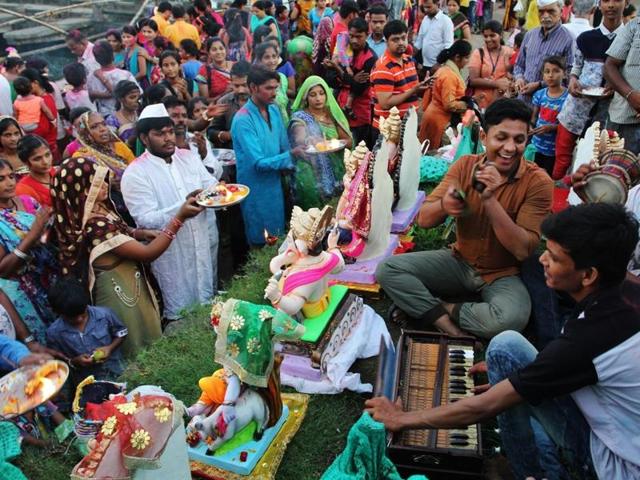 'Silence zone' Shivaji Park records 100.1dB
Noise levels on the first two days of Ganeshotsav at Shivaji Park, Dadar, which is a silence zone, was recorded at 100.1 decibels (dB), much above the permissible limits under noise rules and equivalent to the noise in a discotheque or that of a pneumatic hammer
UPDATED ON SEP 07, 2016 04:13 PM IST
Noise levels on the first two days of Ganeshotsav at Shivaji Park, Dadar, which is a silence zone, was recorded at 100.1 decibels (dB), much above the permissible limits under noise rules and equivalent to the noise in a discotheque or that of a pneumatic hammer.
While the Ganeshotsav festival might be in full swing, a recent comprehensive Bombay high court order from last month not only bans the use of loudspeakers at silence zones but even the use of drums, blowing horns, trumpets and playing of any music using sound amplifiers. Areas within a radius of 100 meters around hospitals, educational institutions, and courts are Silence Zones where loudspeakers are not allowed to be played at all.
The court order was made available to the public when it was released on Monday on the Bombay HC website. "Apart from prohibition on grant of license to use loudspeakers or public address systems in silence zones, there is a complete ban on beating a drum or tom tom or on blowing a horn, either musical or pressure, or trumpet or beats or sounds any instrument playing of any music, using any sound amplifiers, holding of mimetic musical or other performances of a nature," read the order passed by division bench of Justice bhay Oka and Justice Amjad Sayed.
Read: Consider noise mapping across major cities: High court to state
During the first two days of the festival this year, anti-noise crusaders from Shivaji Park, Wecom Trust that pointed out many processions near Silence Zones such as Shivaji Park, JJ Hospital and opposite Chhattrapati Shivaji Terminus (CST) where noise rules were flouted.
"On Monday and Tuesday, decibel levels were at a maximum of 100 dB and an average of 96dB when we took readings from 6pm onwards with the main source being drums," said Ashok Rawat, from Wecom Trust. "Even though the police was present, they did not take any action violating the recent Bombay HC order. They are the implementing authority but are unaware about any violations."
Environmentalists said that the all-inclusive order challenged all problems related to noise right from construction noise, traffic, honking, cap on noise levels during all religious festivals, ban on firecrackers, implementation of redress mechanism for citizens to complain about noise levels and the integration of noise mapping under the development plan for the city, were some of the highlights from the 139 page order.
Read: City's noisiest roads are in silent zones
"This is the first time that the Bombay HC has given such a detailed order for overall noise control for the city, considering that Mumbai is the noisiest in India," said Sumaira Abdulali, convener, Awaaz Foundation. "Although there have been many other orders in the past, there is no appropriate action plan that this order provides."
Noise rules violated
Interpreting clauses of the Noise Pollution Rules, the Bombay high court bench in last month's order, held that noise level at the boundary of the public place cannot exceed 10 decibel over and above the noise level prescribed for an area, or 75 dB where no such noise level is prescribed under the rules.
The court was hearing several petitions raising concern over the increasing noise pollution and lack of enforcement of Noise Pollution Rules, 2000.
HOW MUCH IS TOO MUCH?
•Healthy hearing threshold - 0dB
•Pin dropping - 10dB
•Rustling leaves - 20dB
•Sound of river water - 40dB
•Light traffic, refrigerator - 50dB
•Conversational speech, air conditioner - 60dB
•Vacuum cleaner - 75dB
•Alarm clock - 80dB
•Discotheque/pneumatic hammer - 100dB
•Live Rock Band - 115dB
•Steel mill - 120dB
•Thunderclap, chain saw - 130dB
•Jet take-off (at 25 metres) - 150dB
Close