SSC aptitude test: Students in Maharashta favour arts
Apr 27, 2017 09:28 AM IST
These tests are aimed at assessing the students' skills and interests to help them make their career choices but counsellors say that often these choices change with age, and other influences.
Maharashtra students are more inclined towards pursuing careers in fine arts than the traditionally popular science and engineering fields, revealed the results of aptitude tests declared on Wednesday. Counsellors, however, said that this could be a result of teenage fantasies and might not translate into actual career choices.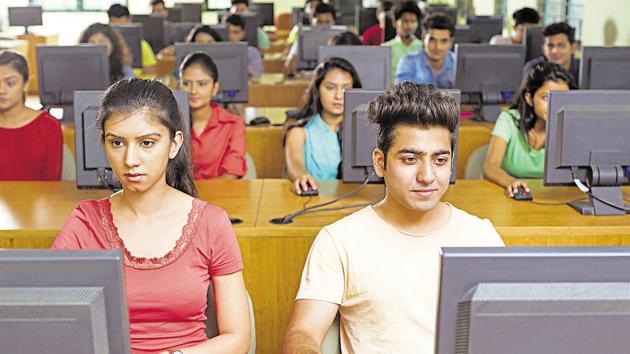 The tests were conducted in February for students appearing for the Secondary School Certificate (SSC) exams to assess their skills and interests in seven areas to help them make informed career choices.
Out of 16, 67,445 students tested in the aptitude tests conducted in February, 2, 45,335 showed interests in fine-arts, followed by health sciences (2, 17, 367). Whereas, commerce (1, 72, 483), arts and humanities (1, 45, 116), and the technical stream (1, 06,207) ranked in the bottom three. Other unconventional choices included agriculture (1, 92, 618) and uniformed services (1, 88, 277).
Although the tests indicate students prefer unconventional and creative careers, counsellors say that often these choices change with age, and other influences.
"Careers in music, fashion designing, animation attract teens," said Mukesh Dangat, education counsellor, Saraswati Vidya Mandir, Chembur. "But often they cannot tell the difference between interests and attraction."
Dangat said that the results of the tests must be supplemented with career counselling. "A child might want to become a pilot or a musician but does he have the dedication, is what a counsellor will be able to tell," said Dangat.
Social factors such as parental expectations and peer pressures also influence the students, added experts. "In Maharashtra, we see that students lack awareness and support systems to help them choose a profession," said another counsellor, Sarvodaya, who has been appointed to the tele-counselling helpline started on Wednesday.
To ensure that students receive guidance, the state board and Shyamchi Aai Foundation also launched a new portal www.mahacareermitra.in and set up counselling centres across Maharashtra for students. Information regarding 86,000 courses offered by over 19,000 institutes in Maharashtra has also been uploaded on the site.