World Environment Day on June 5: Go plogging, plant saplings, make Navi Mumbai green
Residents plan a series of events for Tuesday, encourage participants to work for plastic-free city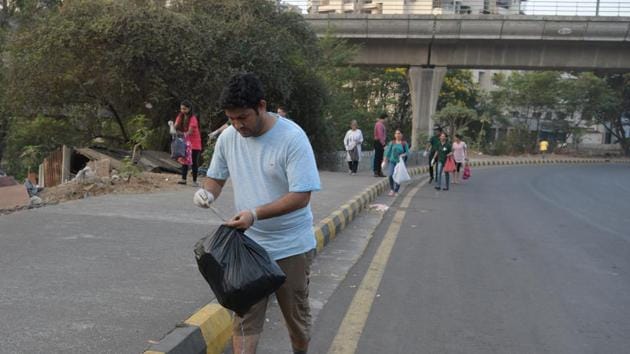 Published on Jun 03, 2018 12:41 AM IST
Fewer trees, dying water bodies and increasing pollution have led to widespread awareness among residents to save nature.
This United Nations Environment has come up with 'Beat Plastic Pollution' theme for this year's World Environment Day on June 5.
Residents have planned a series of events keeping in mind the theme to mark the day and raise awareness about excessive use of plastic, which has a detrimental consequence on the environment.
The events range from organising a plogging drive, tree plantation drive and ban on the usage of plastic.
City environmentalist Sunil Agarwal, 55, who has been fighting to save the Talawe wetland behind NRI complex has organised a plogging drive to clear plastic waste from the periphery of the wetland and its nearby areas.
"Plastic waste would be collected from the mangroves and water bodies. A plogging drive has been organised to collect plastic around the wetland, as plastic waste is killing marine life," said Agarwal.
'Plogging' is a Swedish term, which means picking up trash while exercising, more specifically, while running or jogging. The trend is gaining popularity in India among youth and elders.
Residents have also arranged events to create awareness on the importance of planting saplings and banning plastic completely.
Akash Kunj at Kamothe is a cluster of two buildings with 50 flats, where around 250 residents live. The housing society has decided to reuse plastic bottles and plant saplings in them.
"We have requested everyone to get at least five bottles from their house and plant saplings in them. The bottles are reused and five saplings from each family would be planted, adding to the greenery," said Rakesh Tambe, secretary of Akash Kunj at Sector 21, Kamothe.
NGOs and residents are also involving children in environment-related activities to make them responsible towards environment. NGO Robinhood Army will rope in children to plant around 100 saplings in Vashi, 80 in Kharghar and 150 at Kalamboli. Children will adopt one sapling and take care of it with help from NGO members.
Deepak Singh, the Navi Mumbai head of the NGO said, "I have decided that first all our members would minimise the use of plastic in our daily lives."
Events for nature lovers
Plogging drive at Talawe wetland
More than 100 people would be participating in the plogging drive at Talawe wetland on June 5 between 6 and 8am. People would clean the periphery as well as mangroves. To join the drive, call on 09769006781
Kitchen gardening workshop
The iNaturewatch Foundation is organising a kitchen gardening workshop on June 3, in which the participants will be taught to recycle plastic bottles and oil cans by growing herbs and vegetables in them at home. It will also cover a demonstration on how to convert the kitchen waste into compost. The workshop will be conducted at the iNaturewatch Foundation's office in Kharghar from 9am to 12pm.
Contact number 91 9987013144
Events organised at Hyde Park, Kharghar
Nature trail, bird watching and seed balls tossing – 6-8am
Best out of waste compost-making theme - 8-8.30am
Short film making- 8.30 – 9am
Contact number – 9920791260 and 9619989730
Clean up drive at Kharghar valley
iNature Foundation has organised a clean – up drive on June 5 at Kharghar valley from 8am to 10am. The Kharghar valley is home to many species of flora and fauna and is popular among morning and evening walkers. The area is getting polluted due to plastic dumped by picnickers.
Contact number 91 9987013144
Terrarium making workshop
Ladybird Environment Consulting is conducting a Terrarium Making workshop on June 5 in Turbhe to make people aware about environment and the role and functioning of an ecosystem. A terrarium is a collection of small plants growing in a transparent, sealed container. It is a closed environment, which will be used to illustrate how an ecosystem works. During the workshop participants will make their own terrarium and can take it with them after the workshop.
Close Story