You can use your debit cards to pay for a Metro ride
Published on Mar 08, 2017 01:00 AM IST
The Mumbai Metro Rail Corporation (MMRC) is planning to put in place machines to facilitate automatic fare collection. MMRC officials called this the "open-loop" system and said it was a first in the country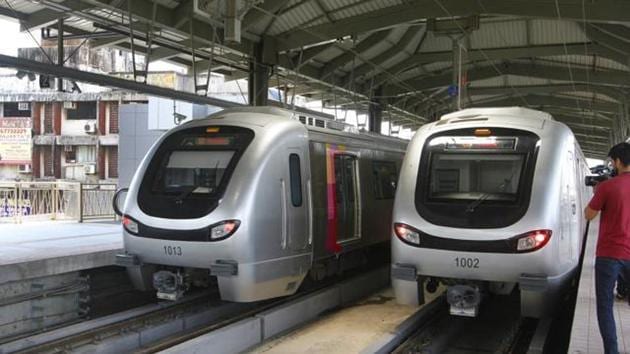 The city's first underground Metro corridor between Colaba-Bandra-SEEPZ will allow you to swipe your debit or credit card to take a ride.
The Mumbai Metro Rail Corporation (MMRC) is planning to put in place machines to facilitate automatic fare collection. MMRC officials called this the "open-loop" system and said it was a first in the country.
A A Bhatt, director (systems), MMRC, said the open loop system will have banks at the back-end, unlike the conventional system, where Metro rail operators collect the fares. A commuter can swipe his card and will be allowed entry once the money is debited. Bhatt said MMRC will tie up with banks to issue these cards that can be used for fare payment.
The cashless payment mode is to make travel easy, sources said, as the MMRC is expecting heavy ridership on the 33.5-km corridor that it says will check-in 28 passengers a minute at its 27 stations.
"As an improvement from the conventional closed loop system, MMRC's system would be based on open loop, which will be capable of accepting pre-paid or post-paid cards issued from nominated banks. The commuter would be able to use the same card for non-transit applications too, such as shopping, parking, etc.," Bhatt said.
According to Bhatt, as and when the common mobility cards for all modes of transports are introduced in Mumbai and the Metropolitan Region, this card service would be merged. Currently, the Mumbai Metropolitan Region Development Authority is developing Integrated Ticketing System (ITS), in which a single card can be used to travel on the Metro, Monorail, BEST, Thane and Navi Mumbai municipal bus service and the suburban trains.
However, these contactless cards will be 'RuPay' based cards. 'RuPay', like the USA-based Visa and MasterCard, is an Indian service that facilitates card transactions. "The RuPay cards are being pushed by the Central Government as the user fees for Visa and MasterCards are going out of the country. By having our own service, the money stays here. Our mobility cards too would be RuPay based," Bhatt said.
The MMRC is also planning to introduce mobile applications for fare collection. Commuters would be able to use their NFC-enabled (Near-Field Communication) smartphones to pay for metro tickets.
The Corridor will be commissioned in two phases. The first phase between SEEPZ and Bandra- Kurla Complex is expected to be commissioned by December 2020, while the rest of the corridor would be commissioned by December 2021.
Read: Govt proposes common fare regulator for Metro rail across India
Personalise your news feed. Follow trending topics