Bus stops here: BMC moots special lanes
Mumbai civic body's recently released comprehensive mobility plan recommends 74.4-km of city's roads be dedicated to buses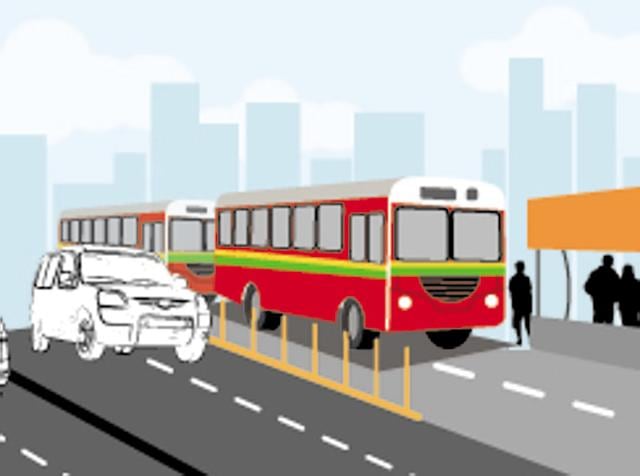 Published on Mar 04, 2016 01:23 AM IST
The civic body believes dedicated bus lanes will ease traffic in the city. It has, in its recently released comprehensive mobility plan (CMP) recommended 74.4-km of roads to be dedicated exclusively for buses.
Among the prominent routes include a 25.9-km stretch for the Western Express Highway (between Bandra and Dahisar) and a 19.2-km dedicated lane from Sion to Mulund on the Eastern Express Highway.
The Brihanmumbai Municipal Corporation's (BMC) report, an extensive study on the city's traffic patterns, was recently submitted to the standing committee.
The study stated that the number of private vehicles is rising steadily in the city, while the number of Brihanmumbai Electric Supply and Transport (BEST) buses, the major public transport provider on the road, is falling. According to the study, cars and two-wheelers entering the city have increased by 8.4% and 6.5% respectively in the past seven years.
The steady increase calls for an effective strengthening of the city's public transport system.
However, this is not the first time authorities have mulled over dedicated bus lanes in the city.
Even in 2014, BEST had initiated a plan to start dedicated bus lanes across the island city and suburbs to increase the frequency and speed of the buses and also attract new consumers.
It had also conducted a pilot study between the National Sports Club of India (NSCI) and Haji Ali in Worli.
The plan, however, is stuck owing to ineffective co-ordination between different agencies.
Jagdish Patil, general manager of BEST, said, "The plan is in process. We are waiting for the BMC to notify the lanes. The lane at Bandra-Kurla Complex (BKC) should start soon." Patil also said they are waiting for a no-objection certificate from the traffic department.
The CMP report also recommends a 3.8-km dedicated bus lane at the Bandra-Kurla Complex. Apart from this, it also includes routes like Madame Cama Road, Ghatkopar-Mankhurd Link Road (GMLR) and the Lalalajpatrai Marg (between Haji Ali and Worli Naka).
Experts believe the report needs to be implemented soon as the city has the best layout to introduce dedicated bus lanes.
"Mumbai is the best city where the bus lanes will work as the distance one travels here is more. It will also ease the traffic as one bus can carry many more commuters. This plan, if implemented, will work better than cities like Ahmedabad and Delhi. However, authorities have to be persistent with the plan," said Ashok Datar, a transport expert.
The Ahmedabad Bus-Rapid Transport System has won several awards and is considered to be the most efficient and best in India.
Close Story