Maharashtra won't declare Aarey Colony a forest
According to government sources, Aarey Colony can be declared forest, but the state is unlikely to do so as it will affect several commercial components in and around the colony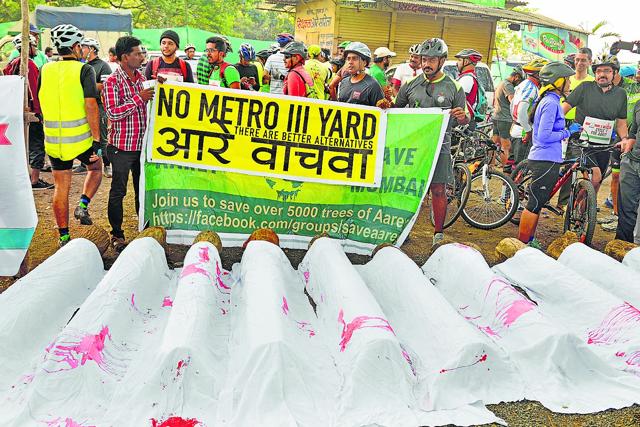 Published on Dec 04, 2015 06:14 PM IST
The battle over cutting 2,298 trees in Aarey Colony for Metro depot has reached a new level. Environmentalists and nature lovers want the colony to be categorised as forest to save it from destruction because of commercial activities.
According to government sources, Aarey Colony can be declared forest, but the state is unlikely to do so as it will affect several commercial components in and around the colony. Environmentalists say doing so would only be fair, as the area has the greenery and rich flora and fauna, including wild leopards, like any other forest.
A source in the forest department said the state can term it a protected forest or reserved forest. "The state has the power to declare an area a protected forest immediately under the Indian Forest Act. An area can be categorised as reserved forest after studying all claims, including those of resettlement and rehabilitation," said the source, adding the state could easily exclude the cattle sheds that are currently under the purview of the dairy development department.
The illegal settlers, however, will have to be rehabilitated gradually. The surveys will have to be carried out by a forest settlement officer, who does not belong to the state forest department.
Environmentalist D Stalin of NGO Vanashakti raised questions over the seriousness of the government about saving greenery in the city. "Despite the Supreme Court order in 2006, the state has not demarcated the area around the Sanjay Gandhi National Park as eco-sensitive zone (ESZ). As forest, the area can easily be used for eco-tourism, which will, in turn, generate revenue," Stalin said.
State bureaucrats claim any such move will upset the commercial and real estate activities in the area. If the colony becomes a forest, an ESZ or buffer zone will have to be created around the colony. This will not only affect the real estate projects in the vicinity, but also government projects such as the Mumbai Film-city makeover plan. "The government is already facing land crunch. If Aarey Colony is converted into a forest, it will bring area along several green regulations. It is almost impossible to consider such a move," said a senior official from the revenue department, adding the authorities were taking measures to save biodiversity.
Environmentalist Biju Augustine said the colony was cut off the forest to allow animal husbandry activities. "The state government is reluctant because of the vested interests involved."
Close Story