Love Pakistani music? Here's how to lay your hands on it
Hindustan Times |
, New Delhi
Tarishi Verma
Apr 19, 2015 04:26 PM IST
Four Pakistani music enthusiasts Khalid Bajwa, Humayun Haroon, Faisal Sherjan and Iqbal Talaat are set to launch Patari, a music portal that boasts of a huge repository of Pakistani music, in the first week of May.
Abida Parveen's Dama Dam Mast Kalandar consumes us with unparalleled energy, Rahat Fateh Ali Khan's Samjhawan serenades us on a rainy day, and hundreds of young girls swoon over singers Atif Aslam and Ali Zafar.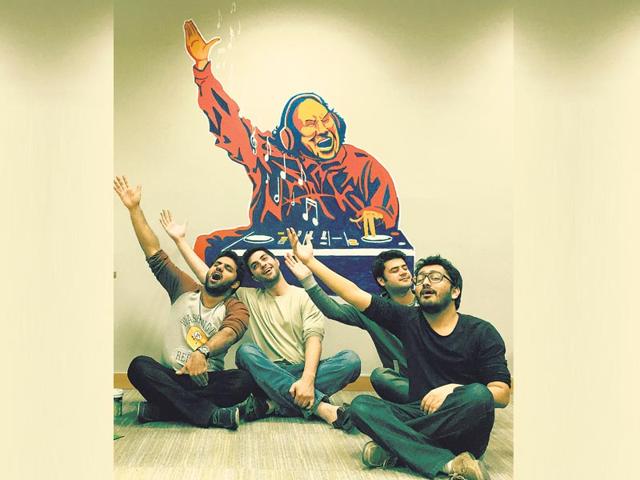 A television show like Coke Studio, which featured Pakistani artists belting out qawwali, Sufi numbers, classical and pop music, had many Indians tuning in. Despite sharing a coloured past, music from across the border has always struck a chord and tugged at Indian heartstrings.
But, like elsewhere, fans of Pakistani music in India had to either wait for a concert of a Pakistani artist or scout the internet. This, though, will soon change.
Four Pakistani music enthusiasts Khalid Bajwa, 27, Humayun Haroon, 26, Faisal Sherjan, 60 and Iqbal Talaat, 31, are set to launch Patari, a music portal that boasts of a huge repository of Pakistani music, in the first week of May. It comes featuring a total of 500 artists and 20,000 songs, covering genres that range from pop, metal to ghazals, rock and indie. Patari also features original soundtracks of many Pakistani TV shows like Zindagi Gulzar Hai, Maat, Humsafar and Mere Qatil, Mere Dildar that were loved in India.
To put it plainly, Patari is to Pakistani music what Gaana and Saavn are to Indian music, although a bit niche. Currently in beta stage, fans can request access by logging onto patari.pk. Of a total of 1,5000 requests queued up in just the past one month, the team has so far issued 1,500 invites, of which 50 were sent out to Indian fans.
Interestingly, the launch of Patari took root in the need to enthuse the once dynamic Pakistani music industry.
"The current situation is such that older, major Pakistani labels lay defunct, and there aren't enough platforms that recognise up and coming artists," says Ahmer Naqvi, the content director of Patari, in an email interview. "Through a portal like Patari, our attempt is to bring a greater base of artists to the fore, revive the Pakistani music scene, and of course make it more accessible to fans across the world."
The team rues that the music scene of a country that gave us the ever famous Jugni, is slowly disintegrating into nothing. Most television and radio channels play only Bollywood songs, major indie labels are languishing, and the security situation has killed concerts and other live performances.

"The Pakistani music industry has become a pale shadow of itself. The only reliable sources of revenue for an artist is to go to India, perform for corporate events and advertisements, or appear on sponsored TV shows," continues Naqvi. "All these options overwhelmingly privilege existing stars, and are difficult to access. The biggest revenue generator is via telecom sales of ring tones. And even here, the share of an artist is minimal."
"The journey towards Patari was littered with sweat, blood, tears and failure," says Khalid Bajwa, co-founder of Patari. "We were originally trying to do a Hulu for Pakistan. A portal for Pakistani drama serials. But Faisal Sherjan, Jang Group's Chief Strategy Officer urged us to do music instead. 'Everyone and their phuppa is doing TV, think Music. No one is doing that'-- he told us.' That was the game changer!"
The word patari means a container. The website is a patari or a potli of entertainment. "Any song you want, you can take it out of your patari," explains Bajwa.
With Pakistan banning YouTube in 2012, young artists lost a platform and so did listeners. Patari hopes to fill the void. While Coke Studio made waves right from its inception, it mostly showcased fusion. There is still much to be heard, and Patari lends a platform to those unheard voices, says Naqvi.
"Coke Studio's template brought together indie acts perfectly well. But how many acts can be featured on one show?" he says. "Patari's aim is far more extensive and wider. One of the main reasons for Patari's genesis was that people just didn't know where to find new bands."
Patari has been neatly divided into playlists according to genres, songs on top of the charts and various moods like romance, heartbreak and baarish among others but you can also make your own playlists. Patari playlists include music of the 1980s, 90s and 2000s and even a playlist of Pakistani music's invasion of Bollywood.
As for fans in India, team Patari feels that Indians have a tendency to liken Pakistani music to ghazals, Sufi songs and qawwalis. Through Patari, they aim to dispel this myth, for the portal will lend a platform to new genres like Baloch and Urdu rap, Pashto metal and rock, Sindhi folk with modern jazz, modern jazz with qawwalis, alternative-country with traditional South Asian folk, and post-rock and electronic compositions.
"Patari is changing my view of Pakistani music. Its playlists are refreshingly good," says Shloak, a resident of Delhi and a listener of Patari. "It's good to hear Pakistani bands like Young Stunners. In their song Raftaar, and singer Faris Shafi through his song Muskura, comment on the condition of their country, its rulers and women."
Asrar Ahmed, a listener from Srinagar loves the variety that Patari has to offer. "Although I joined in as just another music lover, I have gained so much more knowledge about the wide variety of music produced in Pakistan. They even have a section of songs on cricket!"
Another brownie point is for the simple, user-friendly interface. They also have a chat facility in case a user is facing any difficulties accessing the website.
At a time when big names like Spotify, Pandora, Gaana and Saavn are at the top, Patari hopes to carve a niche for itself. "We are catering to a different audience. Spotify is focused on Western music, and Gaana and Saavn on Indian music. While they do have some Pakistani and folk content, it will never be their main focus since that's not what makes money," says Bajwa.
"Our focus is purely on Pakistani music. We can really enable its discovery because we know it inside out."
Naqvi is specifically positive about Patari gaining a foothold in India. "The last decade has seen the Indian underground/alternative culture come of age, with a range of festivals and venues catering to a young audience," he says. "It is here where Pakistani music can find a lot of traction." Just like the television channel Zindagi, which has many Indian viewers hooked to prime time Pakistani serials, Patari could herald a new relationship between the two countries, on the musical front.
"But let's remember that Zindagi involved big players and big money, while ours is a humble startup run by young music geeks. I wouldn't expect Patari to have an equal impact immediately," says Naqvi. "Pakistani music," he says, "has always found a home among Indian listeners. A variety of reasons have cut down on that cross-pollination. Patari could be one way of redressing that."