My Zitar has made Indian music global: Niladri Kumari
Published on Oct 29, 2015 06:41 PM IST
Musician Niladri Kumar admits that many people from the fraternity didn't agree with his decision to modify the sitar which he called Zitar; also talks about his upcoming Bollywood projects.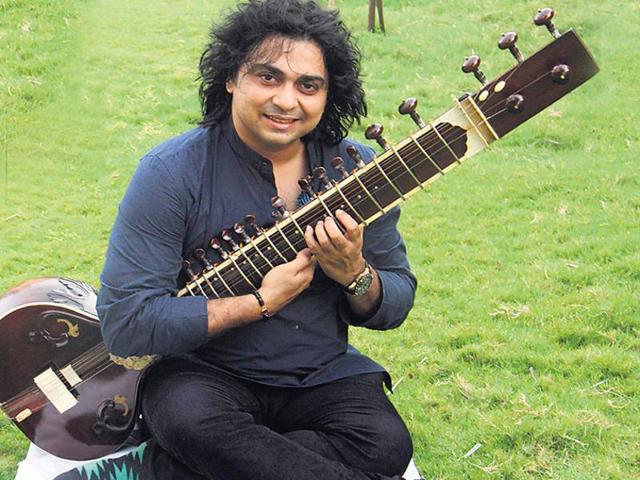 Hindustan Times |
, Mumbai
Soumya Vajpayee Tiwari
Besides being legendary sitarist Pt Kartick Kumar's son, Niladri Kumar has also made his own name in the world of Indian classical music. Famous for giving the sitar a fusion twist, Niladri is the creator of a musical instrument called the zitar (electric sitar).
Ahead of his concert in Mumbai (Oct 30) that is part of a campaign called Stay Uprooted, which celebrates the International Year of the Girl Child, Niladri talks about his father, how he was criticised for modifying the sitar, turning Bollywood music composer, and more.
What have been your greatest learnings from your father?
He introduced me to the difficulties that cross a musician's path, and also ensured that I didn't get things easily. He would create difficulties, and make sure that there was always something new to achieve.
Watch Niladri Kumar's Zitar recital here:
When you started out, was it pressurising to have a renowned musician for a father?
It was a big advantage, because I didn't have to go anywhere to learn music. I got everything at home. When I was a teenager, I started playing with my father at concerts, and no one would say anything as I was his son. Had I been someone else, things would have been difficult. Those platforms made me who I am today.
Tell us about the criticism you faced for modifying the sitar.
I was only criticised. People used to say, "he is spoiling the tradition of the sitar". While they enjoy my concerts, many from the music fraternity criticise me even today. But, everyone has their own opinion. I am not averse to criticism if it is constructive. I think the zitar has made Indian music international. My zitar is an English translation of Indian music.
Read: Jimi Hendrix's flat in London to be opened to public
You have done a considerable amount of work in Bollywood. But, of late, you haven't been part of too many film projects. Why is that?
I grew up in Bollywood. I was a teenager when I started playing for films. I have become selective now. Many of my works haven't come out as yet. My last work was featured in Baahubali.
You have also worked with John McLaughlin (English guitarist). He will visit India soon. Do you plan to take him around?
I'll take him around? I just hope he takes me around. He has been one of the greatest ambassadors of Indian music in the world. When I was given an opportunity to perform with him, it was unbelievable. I am quite excited about his visit.
Read: Adele releases a new song Hello
You worked closely with Pt Ravi Shankar.
My association with Panditji was because of my father, who was his senior-most disciple. The kind of bond they shared made me understand the value of the mantra, Gurur Brahma Gurur Vishnu Gurudevo Maheshwara (The guru is Brahma, the guru is Vishnu, the guru is Shiva). I used to have very personal conversations with Panditji. Every interaction that I had with him was like a lesson for me.
You created the Zitar. How did the name come up?
It was almost at the drop of a hat. When the instrument was discovered, I knew it could not get smaller, louder or zanier than this. Z, for me, signifies edginess, and it is also an inverted S. So, that's how the name came up.
Do you feel the sitar still has scope in Hindi film music?
The scope of an instrument is never decided by the music; it's decided by the musician. If you call a musician and give him or her a track, he or she will know what to do with it; one will find a way to use the instrument in the track. Songs today don't feature the sitar as much because the sensibilities of the musicians have changed. Very often, time and funds are also big issues.
Would you like to compose music for films?
Yes, of course. There is something in the pipeline, but I cannot reveal much about it right now. The project should be out by early next year.
Tell us about your upcoming concert on October 30.
We didn't want this to be just another concert. We wanted to make it more memorable. We wanted to give a platform to young musicians, who don't have enough resources to hone and showcase their talent. So, we have been training a bunch of girls - from six years to 16 years of age - from an orphanage in Vasai. They will be the highlight of the show. It won't bother me if they go on stage and forget their lines. Our purpose is to give them that one experience of being on stage with musicians, and performing in front of a huge audience. Also, we didn't want to limit this initiative to just one concert. So, in order to conduct many more such concerts, I will auction my 100-year-old sitar to raise funds.
Was that a difficult call to take?
I didn't know what to do. It's so close to me. So, I called up my dad for advice. He said, "Give it, as you will probably realise its worth if you give it to someone. It's just lying around, and you don't play it anymore." I realised how true that was. So, that's when I decided to use my sitar to support this initiative.