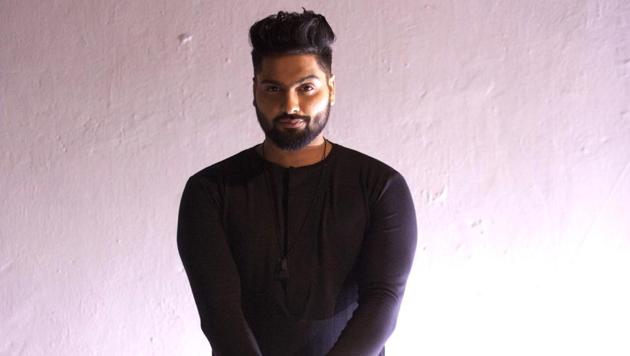 Navv Inder on Wakhra Swag: Badshah is a rapper and not a singer
Punjabi R&B singer, Navv Inder talks about his debut hit Wakhra Swag and the experience of working with rapper Badshah for the song.
PUBLISHED ON MAY 01, 2017 05:49 PM IST
Punjabi R&B singer, Navv Inder became a household name, thanks to all those who grooved to the beats of Wakhra Swag (2015) — his debut collaboration with rapper Badshah. The singer, however, modestly credits it to his fans, who he feels are like his family—always supporting his music and motivating him to do better work.
The singer recently released his new single Tu Meri Ki Lagdi and wants that people should keep an eye out for all the fresh numbers that he has in store for them. "Wakhra Swag was a just a small fraction of what I am capable of, and I am fully concentrated on giving my fans a taste of some original and fresh music," says Inder.
He adds, "When I first started of, I was an MBA graduate in Finance and singing was just a passion. But the way people appreciated my work and accepted me, it made me feel that I should give my 100 per cent to them always."
The singer has been getting quite a few offers from Bollywood for his music, but he says that nothing is confirmed yet; what he can confirm is that fans would not see him change his music [style] for anyone. "Punjabi music is prominent in Bollywood now, so are Punjabi singers, but I will not follow the current trend and just do whatever I'm asked or change my style. I know many who have done that, but for me, your music needs to have your touch and style. I am a great fan of Punjabi folk instruments and I try to use them in my songs too. It is just something that makes song sound even more beautiful and also keeps you rooted in your culture," says Inder.
Mention rapper Badshah taking the cake for Wakhra Swag and he's quick to point out, "Badshah is a rapper and not a singer, so people cannot ignore my presence in that song. I still lead all my acts with that song and it has given me everything. He might like the song and also call it his own, but I only take that as a compliment. What we do are two separate things, and only someone who does not know music will not know the difference. I also understand that I was new [at that time] whereas Badshah was already famous, so people found easier to relate the song to him."
Ask him if he has any Bollywood dreams [apart from singing], Inder says that he wouldn't miss any opportunity that comes his way. "Singing was a shift for me too, considering I had a commerce education background. So if acting comes my way, I'd give that a shot too," says the singer.
Follow @htshowbiz for more

Close