Jewar robbery, 'rape': Family members hold protest, demand arrest of accused
May 29, 2017 11:02 PM IST
The family protested at the office of the subdivisional magistrate and took out a silent march
The family members and relatives of the four women, who were allegedly robbed and gang-raped off Yamuna Expressway while on their way to Bulandshahr last Thursday, protested against the delay in arresting the accused men.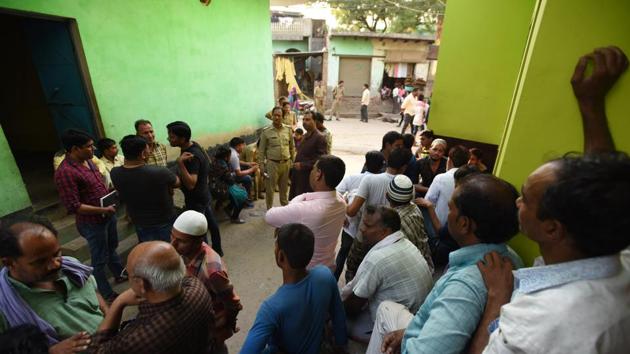 A group of around 100 people took out a silent march through the internal roads of Jewar town on Monday and staged a protest at the office of the subdivisional magistrate.
Protesters said four days have passed since the incident and the police are yet to make headway in the case and nab the culprits.
"A bread earner of a family was shot dead, the women were raped and men were robbed of money. This was a brutal incident and the police have not taken it seriously. We have been given assurances, but nothing has happened," a relative said.
The protest began at 10am and it continued till 4pm as they were waiting for a final assurance from the administration. Protesters raised slogans against the government and the police for not acting swiftly.
They also expressed resentment over the medical reports, which has ruled out rape, being made public. "There was no need to disclose them before getting the final reports from a forensic laboratory in Lucknow," a relative said.
"The disclosure of medical report has troubled the women in society and the government should look into it. Primary reports are not final and we consider the disclosure as a disrespect to women. The chief minister should see why this happened," another relative said.
On Sunday, Union minister for Women and Child Development Maneka Gandhi had said that she will order an inquiry to ascertain who conducted a press conference and revealed the findings of the preliminary medical report of the victim women.
The protesters on Monday also included elderly people in their demonstration and dispersed only after subdivisional magistrate Shubhi Singh Kakan and circle officer Jewar, Dileep Singh reached the spot.
Kakan said the police are also working on the case. However, protesters demanded that the police should make arrests within two days.
"We have given the police a two-day ultimatum to arrest the culprits. If that does not happen, we will continue our protest in a larger way," a family member said.
Dileep Singh, circle officer, said, "We cannot give any assurance on when the case will be solved. The relatives have been told that the police are already working on the case. Arrests cannot happen on the basis of ultimatums."