Ghaziabad: Jilted woman throws acid on 28-yr-old veterinary doctor
Updated on May 17, 2016 03:56 PM IST
A 45-year-old woman allegedly poured four litres of acid on a 28-year-old veterinary doctor in Vaishali on Monday morning.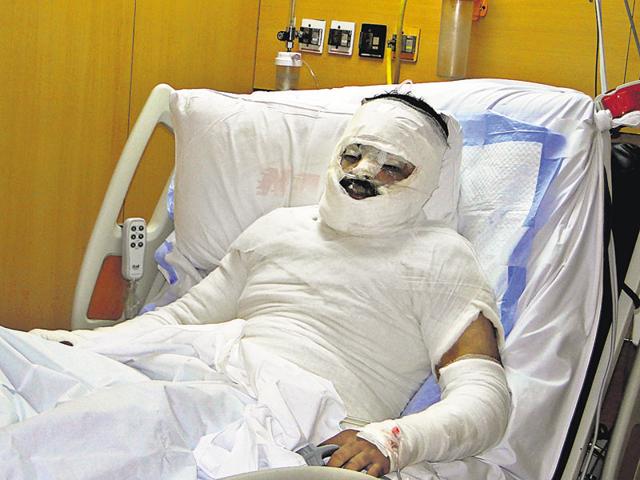 A 45-year-old woman allegedly poured four litres of acid on a 28-year-old veterinary doctor in Vaishali on Monday morning. The woman had been allegedly pursuing him for the past 18 days even after he rejected her advances. The victim is admitted in a private hospital and is critical.
The incident took place at around 8 am at a dog clinic in Sector 4, Vaishali where the victim, Dr Amit Verma, works as a veterinarian. According to his roommate Deepak, Dr Verma was in his living room adjacent to the clinic when the woman barged in and threw acid on him while Deepak was taking a shower.
"Since the clinic's door was open, she sneaked into the living room and threw acid on Amit's face. She immediately fled while Amit kept shouting in pain. I took him to a private hospital nearby and immediately informed the police," said Deepak.
The police reached the hospital but could not record Dr Verma's statement as he was unable to speak.
"The patient has sustained 40% burns on his face, chest, abdomen and arms. He is currently under observation and is kept in isolation," said Dr Sunil Dagar from Yashoda Hospital in Kaushambi.
Watch | Jilted woman throws acid on veterinary doctor in Ghaziabad
Dr Verma joined the clinic in Vaishali on April 26 and had been living in the house adjacent to it since then.
According to Deepak, before joining the clinic, Dr Verma worked as a veterinary doctor at a slaughter house in Meerut. "Amit stayed at a rented accommodation and developed a close relationship with the landlady. However, when he left Meerut for Ghaziabad, it didn't go down well with her," he said.
He added that she had followed him to Vaishali and met him over three times in the past 18 days.
He said as soon as he saw Verma injured, he asked him who did it. "Amit could barely utter 'aunty'. I realised that it is the same landlady who had been after him," said Deepak. Though the police have not yet received any written complaint from the victim, they investigated the spot where the incident occurred and found a woman's purse and dupatta. "The woman left behind a purse with an identity card. However, initial questioning of the victim's friend reveals that the ID card is of another woman whom Amit was apparently dating. Perhaps the woman left this behind deliberately to implicate the other woman. Things will be clearer once the victim's condition improves and he can speak," said Gorakhnath Yadav, SHO, Indirapuram police station.
The police informed Dr Verma's family in Aligarh about the incident. "We will register a case against the woman under IPC's section 326A once the victim's family gives a written complaint. The victim's call records also show that the woman had called him more than 100 times since Saturday," added Yadav.