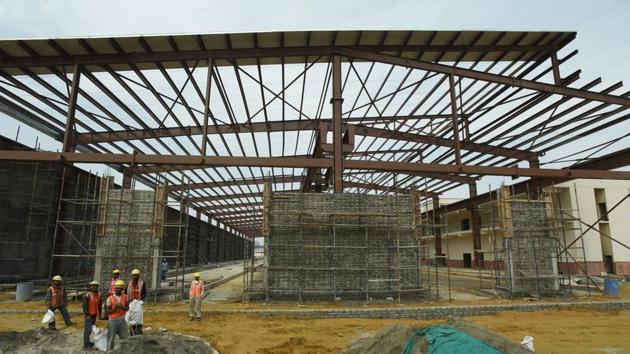 Noida Metro speeds up work of 21 stations on Greater Noida line
Officials said the Sector 147 metro station would be the first on the corridor to be completed. The Noida Metro Rail Corporation has set a deadline of June 2017 to complete work on all metro stations
UPDATED ON MAR 09, 2017 03:05 PM IST
To make the 29.7-km metro corridor from Noida to Greater Noida operational by April 2018, Noida Metro Rail Corporation (NMRC) has set a deadline of June 2017 to complete work on all metro stations.
The 21 metro stations on the corridor are almost ready and construction work is going on round the clock. Officials said by the end of June this year, all stations will be equipped with state-of-the-art facilities.
Officials said the Sector 147 metro station would be the first on the corridor to be completed. The work on this station will be completed by next month. The station wears a fancy look and is going through a final facelift. All other 20 metro stations would be its replica, said Noida Metro Rail Corporation (NMRC) officials.
Also read: Noida-Greater Noida Metro line on schedule, to open by April 2018
SC Gaur, the general manager (planning), NMRC, said, "All metro stations are in the final stages of completion and the civil wing is working round the clock to meet the deadline. The short deadlines have been chosen to ensure the target of its operation is achieved."
Also read: NMRC decides to get 11 trains for Noida-Greater Noida metro corridor
Parallel to the execution of metro stations, NMRC is also working on laying the track on the 29.7-km long line. The process of laying the track on concrete sleepers has also started, officials said.
Also read: Noida metro stations may get foot overbridges
The officials said one kilometre of track from the NMRC's depot station in Greater Noida has already been laid. "We have adopted a strategy that wherever the concrete base of the line is ready, track would be laid immediately. We won't wait after the base is completed and initiate the track process. This will ensure time is saved," Gaur said.
Also read: Noida Metro to offer bicycles on rent from metro stations
The 21 metro stations will have hi-tech escalators, stairs, lifts and separate entry/exit for physically challenged people. The NMRC will also be conducting the first trial run on the metro line in December 2017 over a span of six kilometers, from metro depot to Knowledge Park in Greater Noida.
The metro train to be used for trail run will have four coaches, sourced from China, officials said.
Close