Noida: FIR against mining firms for illegal bridge over Yamuna
Hindustan Times |
, Noida
Preety Acharya
Dec 09, 2017 11:09 PM IST
The Gautam Budh Nagar district administration, early on Saturday morning, searched the three sand mining sites on the banks of river Yamuna
Irrigation department has registered an FIR against a sand mining firm SN Constructions for trying to create a makeshift bridge over the Yamuna to extract sand. The bridge was stopping the flow of the river, officials said.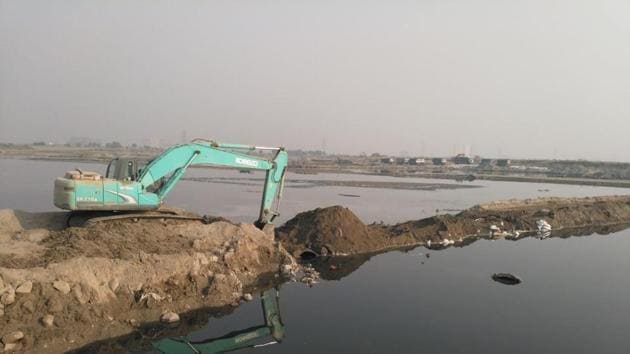 The Gautam Budh Nagar district administration, early on Saturday morning, searched the three sand mining sites on the banks of river Yamuna. Officials from the administration conducted searches as part of the ongoing drive against illegal mining on the orders of the chief minister to take strict action in such cases.
The searches took place at mining sites in Tilwada, Aurangabad and Kondli. During the search, officials came to know about the makeshift bridge after which the irrigation department lodged an FIR against the construction company on the orders of district magistrate BN Singh.
"We have started removing the bridge which was stopping the flow of water. We conducted surprise visits to three sites and one of them had created the bridge. By Sunday, this bridge will be broken. The irrigation department has registered the FIR against the firm. It is a serious offence and strict action will be taken against the offenders," said BN Singh.
"We searched the sites after we got multiple complaints that people are going beyond the area permitted for mining and has gone closer to the river. We couldn't find any persons at the site there but there were signs of illegal activities," said Kumar Vineet, additional district magistrate.
Two teams comprising subdivisional magistrates, assistant regional transport officials and police personnel conducted the search. None of the police personnel who took part in the search belonged to the area police stations.
The searches were kept a secret from the local police and other officials of the area because there was information that people running these mines work closely with local policemen. "We took the decision to conduct searches after midnight and the subdivisional magistrates were informed at 6am. We couldn't find anybody at the site but the action was kept a secret as we believe that miners usually get information in advance. We believe a few local policemen help these miners," Vineet said.
It is mandatory for sand mining companies to install CCTV cameras at the site but none of the three places had any.
After a gap of around four years, the district administration had allotted contracts for sand mining in the Yamuna floodplains to three private agencies in May.
Nardan Infra Developers got a mining site for Rs 459 per cubic metre in Kondli Khadar, while Jatin Buildtech Private Limited got a licence for Rs 257 per cubic metre in Aurangabad village and SN Construction Company for Rs 484 per cubic metre in Tilwada village.