Noida: Green panel raises pollution alert in NCR
May 31, 2017 11:28 PM IST
The panellists directed authorities in Delhi-NCR to implement a graded plan to reduce air pollution
The Supreme Court-appointed Environment Pollution (Prevention and Control) Authority (EPCA) on Wednesday asked all departmental heads of national capital region (NCR) towns, including Noida, Ghaziabad, Bulandshahr, Muzaffarnagar and Meerut, to seriously implement a graded plan with an aim to mitigate air pollution in Delhi-NCR.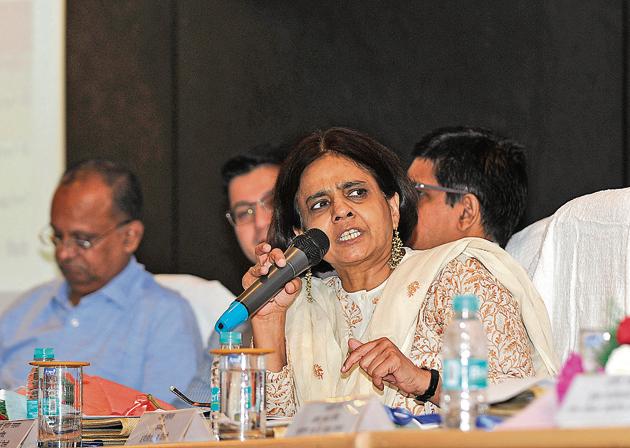 The directive followed a high level meeting featuring the EPCA panellists and officials of the Uttar Pradesh Pollution Control Board, district administration, municipal corporations, public works department and the transport department among others. Sanjeev Saran, principal secretary for forest and environment, UP, Bhure Lal, EPCA committee chairman, Amit Mohan Prasad , chief executive officer of Noida authority and Sunita Narain, director general, Centre for Science and Environment (CSE) were among the top officials taking part in the meeting.
Recycling of waste water, scientific waste disposal, parking policy, crackdown on illegal parking and brick kilns, penalty for garbage burning, action against polluting industries, enforcement against polluting vehicles and protection of trees were some the proposals that were discussed at length at the meeting.
Many officials, however, arrived for the meeting unprepared.
Lal asked from the transport department what action they had taken to strengthen the public transport system in NCR. However, no top Uttar Pradesh transport department official was present to give the exact number of buses arranged for commuting from one city to another in the NCR. And those present at the meeting did not have the figures to back their claims on measures adopted to improve the public transport system and reduce air pollution.
"We all should work seriously and effectively to reduce air pollution in Delhi-NCR because it affects our lives. We should do our bit to conserve our natural resources as they are critical to our survival," Lal said.
Sunita Narain, an EPCA member, spoke on the comprehensive plan of adopting a graded system at the meeting.
"All departments should work for compliance with the graded system if we seriously want to mitigate air pollution. Our role is to suggest ways that help in bringing down air pollution. Local authorities, too, must act at their level to achieve this goal," said Narayan.
In January, the EPCA had notified a graded action plan under which burning of garbage and firecrackers are to be banned, brick kilns are to be closed and strict enforcement of mechanised sweeping of roads is to be ensured. The issues are to be listed under 'moderate to poor' categories and dealt with accordingly.
Through a notification issued in mid-January, the Union environment ministry had assigned the task of implementing the plan to EPCA under the Environment (Protection) Act, 1986.
The comprehensive plan prepared by the Central Pollution Control Board (CPCB) — which focuses on Delhi and 22 NCR districts — was submitted to the Supreme Court on December 2, 2016. The apex court accepted the plan and asked the Centre to notify it.
Read I Noida: Pollution is here, but where are ambient air quality monitors?
"Authorities including Noida and Ghaziabad must not build parking spaces under parks, should recycle waste water, dispose of waste properly, act against builders to reduce dust pollution, ensure mechanised road cleaning and act against those burning waste. Noida authority should ensure no vehicle is parked on roads. It should come up with a parking policy that ensures order on roads so that motorists have smooth passage and emissions don't drive air pollution to alarming levels. Industries should switch to non-polluting fuel such as piped natural gas," Lal said.