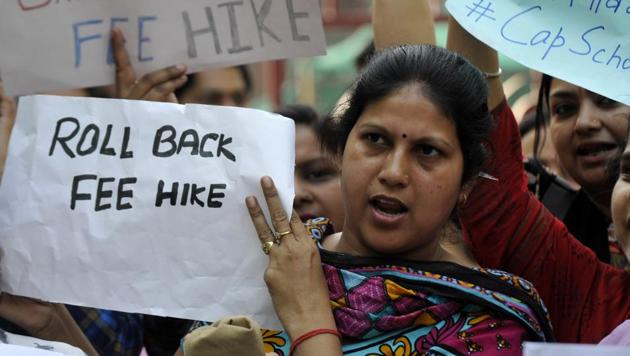 Parents approach CM Yogi against The Shriram Millennium School
In a letter written to Yogi, the parent group has alleged that the school management has hiked the fee for academic session 2017-18 by 15%-17% claiming that the revision was necessary owing to the implementation of seventh pay commission
UPDATED ON APR 20, 2017 10:54 PM IST
As many as 229 parents of children studying in The Shriram Millennium School in Sector 135 have approached chief minister Yogi Adityanath seeking his intervention in alleging that the school management has hiked the fees by 60% in the past five years.
The group of parents from The Shriram Millennium School have joined the ongoing protest of others across Delhi-NCR against fee hike by private schools.
In a letter written to Yogi, the parent group has alleged that the school management has hiked the fee for academic session 2017-18 by 15%-17% claiming that the revision was necessary owing to the implementation of seventh pay commission. Parents also alleged that the school management hiked the fee by 60% in the past five years.
"The school management said the hike has been made in accordance with the seventh pay commission. However, the breakup of the items in the fee shows that there has been an increase in tuition fee of Rs 6,105 and annual charges of Rs 1,920 per quarter, besides other increases. Now we do not know which line item in the fee invoice correlates to teachers' and staff's salary," said Sunil Mathews, a parent and Supreme Court lawyer.
Parents have further alleged that the school management has been charging an exorbitant amount at the time of admission.
"Many parents have alleged that they have been made to pay Rs 55,000-Rs 70,000 at the time of their ward's admission as orientation fees. This is shocking," said a parent on condition of anonymity.
Parents are also unhappy with the school management admitting excess number of children.
"We were told that the teacher-student ratio will be 1:12, which is ideal. However, currently the ratio has increased to 1: 25 and it clearly shows that the school management is busy in making money. We are disappointed to note that we have not seen any visible difference in the infrastructure of The Shriram Millennium School and its campus in the last 4-5 years. The playgrounds need of maintenance and there are no security measures in place during sports activities," Mathews said.
Parents have demanded that the UP government introduce a regulatory commission for private schools and ask The Shriram Millennium School to roll back its hiked fee.
The school management declined comment on the issue.
"We will be offering an answer to the press and public tomorrow (Friday)," said a spokesperson for The Shriram Millennium School group.
Close