Race attacks: Fear leads to divisions among Africans in Greater Noida
Mar 30, 2017 06:33 PM IST
ETHNICITY: Members of the Hausa community face the ire of Africans after they were accused of drugging 17-year-old Manish Khari
Tension and fear are so rife in Greater Noida in the wake of race riots that a certain ethnic group of Africans is being blamed by others from the continent for triggering the backlash against them.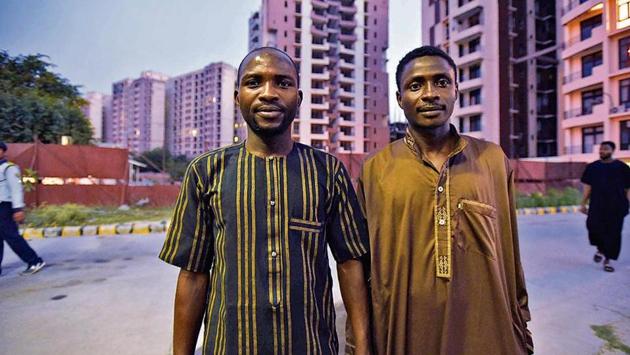 Moosa, 21, a BA student of Sharda University, is one of a small group of Hausas who is now a victim of racist slurs from locals and discrimination from nationals of other African countries. The slurs began after two Hausas were accused of drugging 17-year-old Manish Khari. Hausa is an ethnic community found majorly in Muslim-dominated northern and south-eastern Nigeria.
Moosa said for the past few days, he and other Hausa students have not been able to venture out of their residences for fear of attacks and insults from other Africans.
"Since the day the attacks began against Africans, I have been defending myself and my identity as a Hausa man from Nigeria, as every other African has been pointing fingers at us saying that the entire situation has happened because of the Hausas," Moosa said.
Race riots took place in Greater Noida after 17-year-old boy Manish Khari died allegedly of a drug overdose.
Five Nigerians were arrested on suspicion and later released due to lack of evidence.
The local residents have been attacking Africans for the last three days, he said.
Moosa said he is scared of the recent attacks against people from African countries but is more worried about the image being attached to those from the Hausa community by people from other African countries.
"Just as Indians think that African people deal in drugs and indulge in other anti-social activities, the Africans too have started to believe that it is the Hausas who are giving the continent a bad name," Moosa said.
"I have to justify myself every time such an incident crops up. My friends are also taunting me by saying that since I belong to the Hausa community, I too must be involved in these anti-social activities," Moosa said.
Abu Bakr, another Hausa man from Nigeria, says that he is tired of the taunts from fellow Africans.
"Every community has good and bad people; it is wrong to generalise based on one or two incidents. I hope that common sense prevails and peace returns to Greater Noida," Bakr said.
Moosa said he is aware of the many complexities of racism and how India too has its own cross to bear when it comes to casteism and regionalism — both of which are still prevalent in the country.
Pronouncing Bihar as 'Binhar', Moosa said that his friends from that state have also been victims of bias and prejudice.
"We have many friends in Sharda University and a few of them are from Binhar.I have also seen our Indian friends make fun of them too every time a 'Binhari' is involved in a crime," Moosa said.