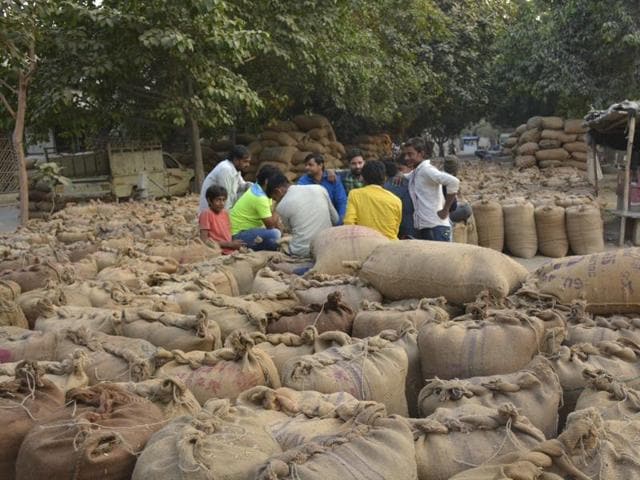 Sale of rice, pulses crashes in Ghaziabad
Traders said the supply has been reduced by over 60% over the last week
UPDATED ON NOV 17, 2016 01:47 AM IST
Traders of grams and pulses at Navin Anaj Mandi market said the supply of wheat, rice and pulses has reduced by around 60% over the last week, following the Centre's decision to scrap Rs. 500 and Rs. 1,000 notes.
Rajesh Yadav, secretary of Mandi Samiti (market committee), said, "We are not accepting the scrapped notes for 'Mandi Shulk' (2% market charge on sale) since November 8. Arrivals have reduced to just 30%-40% of the regular quantity, of late. A few traders might be accepting the Rs. 500 and Rs. 1,000 notes but the majority are accepting only other denominations."
There are around 250 traders and commissioned agents who are licensed to trade in the market, but not more than 50 such traders and agents are functioning at present.
According to the entry logs, the average arrival of vehicles, trucks and trolleys of farmers, bringing in wheat, rice and pulses stood around 60 vehicles per day in the last week of October and the first week of November.
However, the number of vehicles now averages around 25, following the demonetisation move. Traders say that the move has hit them hard and they are not able to sell their stocks.
"Our sales dipped by around 80%-90% from November 8. Farmers are also not bringing the produce; most of them are rushing to banks to get cash and deposit their scrapped notes," Shahzad Ali, a commissioned agent at the market, said.
"Earlier, we sold 200-300 quintals (1 quintal = 100kg) of rice on a daily basis but now, we sell around 30-40 quintals per day. Today, we sold Basmati rice at Rs. 2,251 per quintal and Sharbati rice at Rs. 1,600-Rs. 1,700 per quintal. The prices have, however, remained stable and not decreased considerably. There is a difference of Rs. 100, at maximum, in some instances," he said.
Others said that they are selling five bags of wheat since the demonetisation, compared to 50 bags per day, earlier.
Farmers, who came to the market in search of fertiliser said that they are finding it difficult to procure fertilisers, as it is the right time to sow wheat.
Nooran, a farmer from Piplehda in Masuri, said, "Shops where we usually purchase fertilisers are now demanding new notes. If we are not provided fertilisers within 10 days, the produce (of wheat) will be affected."
Mohammed Mubarik, a farmer from Dhabarsi village in Hapur, said, "I am trying to sell the rice I produced in the market but everyone is offering scrapped notes. Else, they tell us to come after the effect of demonetisation is mitigated. How long can a farmer wait? I need money right away for sowing wheat."
Close