'Slap bet' video of Noida schoolboy goes viral, school suspends 3 students
Sep 08, 2017 09:19 AM IST
In the video that has been shared widely on Facebook and WhatsApp, one of the boys is seen slapping another while the others are seen recording it on their phones.
In a video that emerged on social networking sites on Thursday, a student of Pathways School in Noida is seen getting slapped by another student. The school authorities claim that they have taken action and the incident was not of bullying but 'consensual peer slap bet'.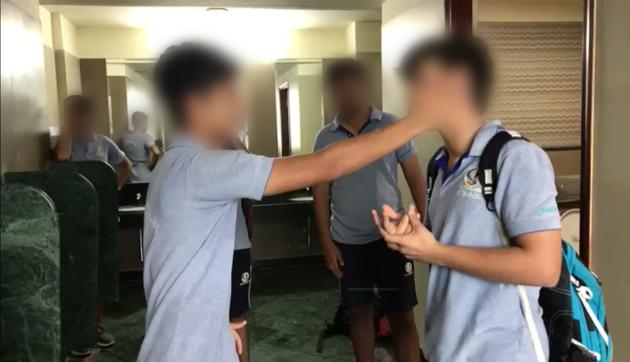 The video, in which four students, including the victim, can be seen, has drawn severe criticism from various quarters. "Every school should keep vigil over the activities of children in school. Security should be enhanced in secluded areas," said Neeti Srivastva, a parent.
The incident reportedly took place inside the school premises on September 4. The person filming the incident can be heard saying words such as 'Snapchat story'.
After the boy is slapped, those facing camera can be seen laughing. The video has been widely shared on WhatsApp and Facebook. The father of the victim has also written letter to school principal Sunanda Sandheer seeking action. "We are writing you this email in respect to the incident that took place with my son (name withheld), within the school premises and within the normal school timings, on 4.09. 2017 around 14:00 hours. The incident has been recorded on video where it can be clearly seen that few students of the school have surrounded my son, and one of them is recording the whole incident on his phone for the purpose of "snapchat story". It can be further seen that our son is under great deal of stress and fear and is helpless for so many students have surrounded him (sic)," the letter reads.
Pathways School director Dr Shalini Advani in a statement said, "This is a rather unfortunate incident. However, this is not a bullying incident. It is the outcome of a consensual peer 'slap bet' episode that a few Pathways School Noida students had between themselves. Pathways School Noida has been swift in responding to the situation and has taken appropriate action with involvement of parents of the students involved."
Dr Shalini also said, "Three boys have been suspended from school — the one who slapped for one month and two others who assisted for two weeks. The boys will make a public apology in front of everyone. They will reflect on their learning from this. They have all written letters of apology to the boy and his parents."
The father of the boy, who was slapped, told HT, "He is under stress and this incident has caused us a great deal of pain. He was taken to the washroom and bullied by others. I did not file any police complaint and have sent a complaint to school for their intervention. I trust them and believe action will be taken as how my son was bullied."