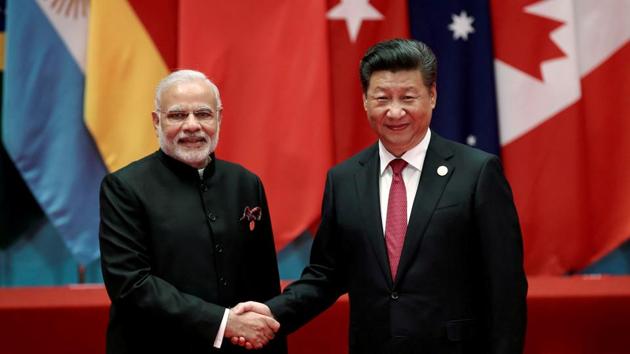 2016: End of Modi's foreign policy honeymoon
The coming year will be one of global uncertainty, with a capital U. As foreign minister Sushma Swaraj said this year, "There is an overall loosening of relationships and even countries that are formal allies are now hedging."
Hindustan Times | By Pramit Pal Chaudhuri
UPDATED ON DEC 28, 2016 03:55 PM IST
Effectively Prime Minister Narendra Modi's third year in office, 2016, was to be a time of foreign policy consolidation. He reduced his overseas travel by a third, even staying home during the first three months.
Modi's primary foreign policy goal, restoring overseas confidence in the India economic story, was a mission accomplished. As he declared, "For me more than what the world thinks of the government, what the image of the country is, is important."
The world wasn't going to let Modi off that easy. It had been all quiet on the northern front his first two years. In 2016, India's relations with Pakistan and China went sour – or returned to normal depending on perspective. The year began with Pathankot and ended with the worst Line of Control violence in eight years.
Read: NDA at 2: Modi's unexpected successes in foreign policy
China was a less inscrutable story. Modi had genuinely hoped his Sabarmati summit with his Chinese counterpart, Xi Jinping, would smoothen their otherwise bumpy relations.
In 2016 Beijing showed its true colours: India would get a pass only if Islamabad gave a green light. New Delhi is still guessing as to why Beijing, traditionally wary of taking stances on Indo-Pakistani disputes, now openly toes the Islamabad line. Sino-Indian relations went into reverse. China, after signalling otherwise, slammed the door on India's Nuclear Suppliers Group membership. New Delhi sought to unnerve Beijing about the security of the China-Pakistan Economic Corridor and is now waiving its Dalai Lama card. The two countries have to "give each other sufficient space," warned Foreign Secretary S. Jaishankar.
Read: PM Modi's foreign policy a welcome sign of maturity
The Sino-Indian border remained quiet. But Beijing doesn't need to do much as the other Indian border is in flames. A Kashmir riots and worsening China-India equation combo automatically encouraged Rawalpindi to prod India harder. "Pakistan is a subset of our China relations," say senior Indian diplomats.
The early foreign policy honeymoon Modi experienced with India's two main rivals is over. With them, it is business as usual. And the prime minister's "surgical" language – responding militarily but, more important, making it public –was signalling for the coming year.
Read: Modi's foreign policy misses in the neighbourhood
Modi also played the first moves in some game-changing initiatives this year.
First, attitudes towards India among the Persian Gulf monarchies – the United Arab Emirates and Saudi Arabia in particular – are being turned around. One result: Billions of dollars pledged for Indian infrastructure. Another is the slow separation of Pakistan from its long-standing Arab backers.
Second, he firmed up a new relationship with Africa. Indian now trades more with Africa, over $100 billion, than the US or Japan. Modi's topped this off with the seeds for long-term energy and security collaboration.
Third, India's plans for transforming the Bay of Bengal with concrete and diplomacy started to see shape in 2016. The Sagarmala projects, the resurrection of BIMSTEC, the tie up with Japanese finance to connectivity projects: the pieces of this geopolitical puzzle were defined.
Finally, Modi has moved quickly to ensure that if the US President-elect Donald Trump has a black-and-white vision of the world, India is in the light part. Fortunately, Modi is seen by Trump's circle as an ideological forerunner to their own victory. But New Delhi is among the few major governments which does not worry that its US relationship is about to take some heavy knocks.
The coming year will be one of global uncertainty, with a capital U. As foreign minister Sushma Swaraj said this year, "There is an overall loosening of relationships and even countries that are formal allies are now hedging."
There will be question marks over the US-China relationship, how much worse an Islamic State with its back to the wall can get, and how a world economy of a strong dollar, yo-yo oil prices and trade wars will perform.
Modi will add to this as he pushes through back-to-back reforms on the Indian economy next year. If he carries them off, India will pull ahead of the global pack.
If he doesn't, Modi will be another fading leader of another non-emerging economy.
Close