Aadhaar linked to mid-day meal: Why put the burden on children?
Updated on Mar 09, 2017 03:54 PM IST
Besides violating children's right to education, nutrition and health, an Aadhaar verification before serving a mid-day meal raises a number of ethical and practical questions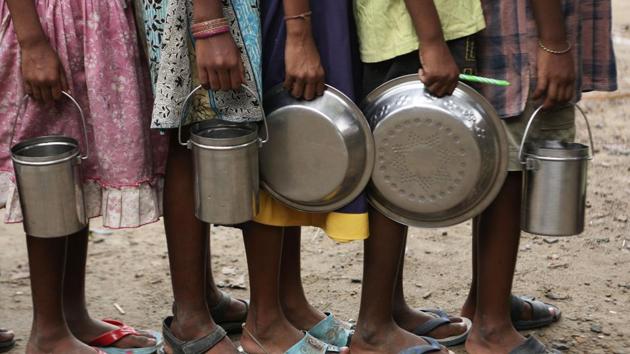 Kiran Bhatty and Dipa Sinha
The last few weeks have seen a spate of government notifications making Aadhaar mandatory for receiving the benefits of government programmes. The most recent orders relate to an Aadhaar requirement for children to access schools (even under their fundamental right to education), mid-day meals, supplementary nutrition (ICDS) and scholarships. These directives raise a number of ethical as well as practical questions, besides violating children's right to education, nutrition and health.
In fact, the ministry of human resource development notification making Aadhaar mandatory for children to avail of the mid-day meal in schools hits at the pit of one's stomach. It seems that the government believes this is the way to address corruption in the system — stop leakages of food by ensuring a child without a number goes hungry. It finds nothing wrong in asking a child to show a document, a number before she can be given food. It might even think it will score points on controlling corruption, no matter that it means taking food away from children.
Let's take a cold hard look at the mid-day meal scheme to understand what, if anything, justifies this measure. Or is it just another example of an order that has not been thought through before being pushed out?
Mid-day meals in schools serve multiple important objectives. Research across the world has established that school meals reduce hunger, increase enrolment and attendance and improve learning outcomes. Most countries have some sort of a school meal programme. In India, the provision of hot cooked meals in schools has a long history starting with Tamil Nadu universalising the meal scheme in the early 1980s and a Supreme Court order in 2001 making a cooked meal in all government schools a legal entitlement across India. Even today, in many parts of the country, the mid-day meal is the first meal of the day for a number of children. Currently, the mid-day meal programme covers more than 100 million children across 1.15 million schools. More than 2.5 million women, mainly from SC/ST/OBC communities, are employed as mid-day meal cooks and helpers. It is arguably one of the best programmes in the social sector.
Having said that, it is also true that there are gaps in the delivery mechanism, such as irregularity in supply, poor hygiene and infrastructure, inadequate nutritional content of meals, difficulties in estimatingthe exact number of children using MDMs, etc. It is however quite unclear how using a mandatory UID for children will address any of these problems.
The official basis for mandating the UID for a mid-day meal is that, "the use of Aadhaar as identity document for delivery of services or benefits or subsidies simplifies the Government delivery processes, brings in transparency and efficiency". Simplifies government delivery process by limiting the number of children that can access MDMs? Bring in transparency and efficiency by denying some children food, because they have not been able to get a number tagged to their fragile selves? What does it make transparent, and what or to whom, is the accountability being established through this method?
The use of biometrics for children raises other troubling questions as well. First, fingerprints of children are not fully developed till they are 15 years of age. Even the UIDAI is not supposed to capture biometrics for children under five. Secondly, there are serious issues related to capturing and storing children's biometric data, as the issue of right to privacy is still being debated in the Supreme Court. Thirdly, the government has stated that Aadhaar is purely voluntary and the data is being collected and shared only after taking consent. In the case of children, who is giving consent? And what if a child when she becomes an adult does not want her biometrics to be shared?
Besides, the experience of using Aadhaar in other schemes such as the PDS, pensions and even direct benefit transfers in Rajasthan, Chhattisgarh, Delhi and other places, has been less than satisfactory. Around 30% of beneficiaries have reported facing authentication issues; problems related to mobile networks, electricity supply and so on — common problems in large parts of India. Will an authentication process be carried out on every child on a daily basis, before providing the mid-day meal? And will some children be denied food, because the technology failed?
Another stark reality brought up by this soul-less notification is the continued disregard for children in our society. From the abysmal statistics on their health and education status to the level of violence and other injustices perpetuated on them, children and their rights continue to be colossally neglected.
Shouldn't we be focusing our attention on ways to create a welcoming, nurturing environment for children to come to school, enjoy a hot cooked meal, expect to get a decent education, appeal to the basic human instincts of teachers and others in the system towards children who are dependent on them, rather than make the children themselves the villains, as it were, apparently disrupting efficiency in the system.
There are other known and effective means to reduce corruption in mid-day meals, such as community monitoring, social audits, decentralised grievance redress systems, public display of information on beneficiaries and menus, which need to be encouraged rather than expect our children to carry the burden of corruption, transparency and accountability for us.
Are we being complicit in giving legitimacy to a paradigm that is so obsessed with the ends it is completely blindsided to the means, even if it involves children and their hunger? It is time we stopped to think where we are going with this obsession with digital transparency and accountability.
Kiran Bhatty is senior fellow, Centre for Policy Research, New Delhi, and Dipa Sinha is assistant professor, School of Liberal Studies, Ambedkar University, New Delhi
The views expressed are personal
Personalise your news feed. Follow trending topics