Bihar school topper scandal: Police may have sent a minor to jail
The student is a minor and has not been given a chance to produce age-related documents.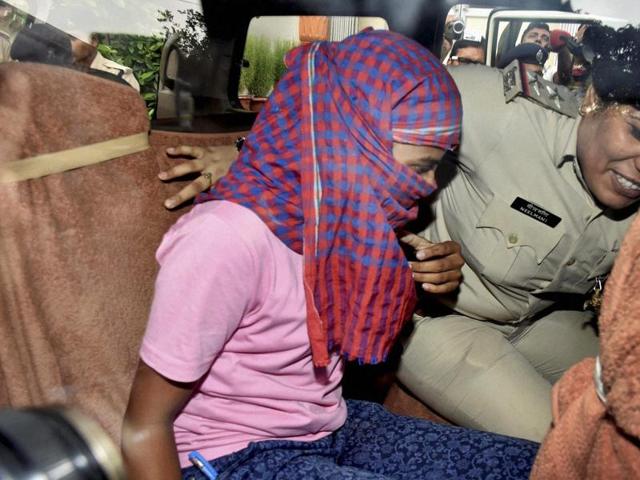 Updated on Jun 28, 2016 08:01 PM IST
The Special Investigation Team (SIT) of Bihar police probing the intermediate toppers' scam has erred in sending Ruby Rai, now notoriously known as 'fake topper', to jail without verifying her age.
Police are treating Rai like a hardened criminal when prima facie, she is a minor.
Two Hindi newspapers have claimed that Rai was a minor when she was arrested, criticising the approach of the investigating agencies.
After the scam came to light, a panel was formed to re-evaluate the merit of the top rankers. Rai's result was annulled and she appeared before the panel at the Bihar School Examination Board (BSEB) office where she could not answer a single question correctly.
From the BSEB campus, she was taken directly to a judicial magistrate's residence, who sent her to Patna's Beur jail for two weeks.
I am a village girl, don't know how I topped Bihar board exam: Ruby Rai
All this while, she was not given a chance to produce age-related documents. Manu Maharaj, Patna senior superintendent of police who heads the SIT, has said it is for Rai to prove that she is a juvenile. It is clear from Maharaj's statement that the police do not possess documents related to Rai's age.
It is learnt that Maharaj told reporters that if Rai could prove her juvenility at any stage of the trial, she will be produced before the Juvenile Justice Board (JJB) that tries underage offenders.
This is in clear contradiction to age determination sections of Juvenile Justice Act (JJA) which say that if the age of the accused is not clear, the magistrate should give benefit of doubt to the accused and send the accused to the JJB.
The principle that investigative agencies are supposed to follow in such cases is to err on the side of caution.
In Gopinath Ghosh case of 1983, the Supreme Court ruled, "Whenever a case is brought before the magistrate and the accused appears to be aged below 21 years, before proceedings with the trial or undertaking an inquiry, an inquiry must be made about the age of the accused on the date of occurrence."
Why Ruby Rai's arrest will not stop the rot in India's education system
But the SIT has taken 'guilty until proven innocent' approach in Rai's case.
What the SIT has done, falls into the pattern of agencies sending accused to prison without age assessment. In some cases, they don't have the documents in place. In others, police project minors as adults so that they are tried under the Indian Penal Code and not the JJA.
In 2012, an RTI application revealed that Delhi's Tihar Jail was holding more than 400 juveniles who should have never been lodged there. Since then, they have been shifted to observation homes meant for juveniles in conflict with law. Juveniles have also been found languishing in prisons in Karnataka, Rajasthan, West Bengal, Assam, Madhya Pradesh and Maharashtra.
Various studies say that juveniles become aggressive and learn many tricks from seasoned criminals inside prisons meant for adults. In majority of the incidents of violence in reformation homes meant for juveniles, gang leaders are often inmates who have come from Tihar, after being exposed to the worst possible treatment from other inmates as well as the jail authorities.
Second and equally worrisome aspect is that of identity. Assuming Rai is a minor, the SIT has violated the JJA and a 2012 order of the Delhi high court both of which underscore the need to maintain complete confidentiality in cases involving juveniles.
India is a signatory to the UN Standards Minimum Rules for the Administration of Juvenile Justice, which requires that the juvenile's right to privacy remain inviolate at all stages of the legal process in order to avoid harm caused by undue publicity.
The proposed JJ Rules 2016 (yet to be notified) contains a provision that any agency should not use information related to juvenile accused in a manner that stigmatises them.
This is not the first time agencies have shown insensitivity in a matter related to minor accused. Violations of this nature were quite routine during the trial of juvenile accused in the December 16, 2012, gang-rape case. Police regularly leaked information about the identity and native place of the accused which were carried by various media outlets.
Result of hysteria around this case and continued vilification of the juvenile accused was that the convict is with an NGO despite the completion of his detention period.
It is likely that Rai will also be hounded in the same manner. One should not be surprised if, on the completion of the trial, Rai and her parents decide to relocate to some other state or city to avoid constant glare.
Investigating agencies have failed Rai by not giving her a fair trial and right to privacy. Government and non-government bodies meant to protect children's rights are equally culpable by remaining silent on this issue.
Close Story