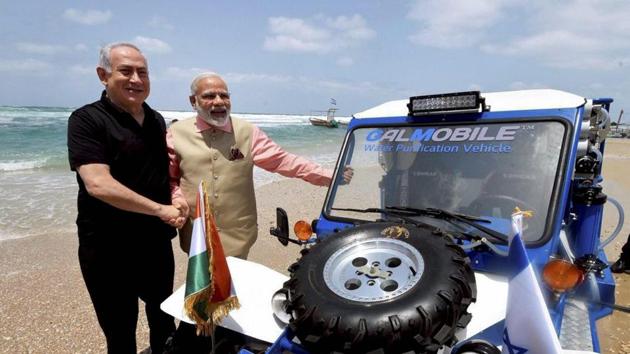 Growing ideological convergence, not just business, is driving India-Israel relations
India and Israel went through parallel paths, at roughly the same time, and appear to be reaching the same outcome under their respective leaders: Indian Prime Minister Narendra Modi and his counterpart Benjamin Netanyahu
By Khinvraj Jangid
UPDATED ON JUL 07, 2017 01:28 PM IST
In their first 25 years of diplomatic relations, India and Israel have established and achieved a lot and there are enthusiastic and passionate discussions on both sides on how much more they can do. Indian prime minister's first visit, and Narender Modi's second, as chief minister of Gujarat he had already visited Israel in 2006, is considered 'groundbreaking' event in the diplomatic world. This is because it was the first visit of an Indian PM after the establishment of full diplomatic ties in 1992, and also because an Israeli PM, Ariel Sharon, had already visited India back in 2003.
Current enthusiasm towards Israel is largely driven by the defence sector, business groups, and policy think-tanks. One of the dominant arguments is that India can benefit a lot in areas such as defense, agriculture, trade, technology-driven development, etc. Hence, India's policy towards Israel should be guided not by old ideology(ies) but by realpolitik — pragmatic and rational.
Is this the driving force behind India-Israel growing relations?
The decision not to establish diplomatic relations with Israel after Indian Independence, from the point of view of Nehruvian ideology, was the combination of four ideas: Third World activism, anti-colonialism, solidarity with the Asian-African societies through the Non-Alignment movement, and the staunch support for Palestinian statehood. These ideas determined Nehru's diplomatic engagement with the larger world and with the State of Israel too.
Thinking theoretically about India-Israel ties, a better explanation comes out of the constructivist theory of international relations, which takes into account the role of identity of a nation-state and popular political values in understanding the foreign policy choices of a given State. According to the constructivist theory, nation-States are not only after security, survival or prosperity but they act for ideas as well. National interests are driven by circumstances but they do change because of certain ideas such as free-market economy or cultural-religious nationalism. Therefore, nation-states do not have a 'portfolio' of interests that they carry around independent of social context. They can define/redefine their national interests in the process of confronting a situation or the question of self-identity of the nation.
The ideological alignment between India and Israel around cultural-religious nationalism coupled with neo-liberal free market economy is an important driving force today. The way each State defines its national-identity has direct links with the attitudes towards the other. The significant rise of BJP, therefore, asserted and continues to assert closer relations with Israel. The current ideological alignment matters in their ongoing bilateral relations as much as the Nehruvian ideology mattered in the past.
It should not be a surprise, hence, that the period 1998-2004, when BJP was in power, was instrumental in the evolution of the ties between the two states. The period precisely the political background that made possible the historic 2003 visit of Sharon to India. Hindu nationalists have long looked to Jewish nationalists for inspiration. LK Advani, senior though now irrelevant BJP leader, writing in his blog, has described his role in establishing diplomatic ties with Israel in 1992. According to him, these ties were 'fortified immensely during the six years' of the BJP-led NDA regime under Prime Minister Atal Bihari Vajpayee.
Michael Walzer, political philosopher, has mapped the role of ideological alignment between India and Israel in his latest work – The Paradox of Liberation: Secular Revolutions and Religious Counterrevolutions (2015, Yale University Press). He explains why, not long after very sincere secular national liberation movements came to power in India and Israel, they were replaced by religious reactionary movements opposed to secularism.
In his analysis, Israel and India went through parallel paths, at roughly the same time, and appear to be reaching the same outcome.
The second part of the growing convergence is about the image of the State. The idea of a strong State, at least in militaristic/security sense, is an ideological notion with which the BJP wants India to be identified with. A strong State that follows the dictum 'offence is the best defence'.
One illustration that shall capture this is the speech that Modi delivered in Himachal Pradesh after the surgical strike against Pakistan in October 2016. In his words: 'Our army's might is being discussed across the country these days. We used to hear earlier that Israel has done this. The nation has seen that Indian army is no less than anybody'. PM's faint reference is indicative of the tendency to emulate the strong image that Israel is known for. Often in class room conversations with students at Jindal University about why do they choose to study Israel I get one inevitable answer, that is, Israel is such a strong and powerful State.
In short, the 'historic moment' of India-Israel diplomatic relations is a shift from one ideology to the other. Ideas such as anti-Colonialism and Third World Activism mattered in the past and current ideas such as religious-cultural nationalism and neo-liberal free market economy matter now.
Good business and strategic benefits are just the venerer for the current deeper camaraderie.
Dr. Khinvraj Jangid teaches at Jindal Centre for Israel Studies, Jindal School of International Affairs, OP Jindal Global University, Sonepat.
The views expressed are personal
Close