Infosys ceasefire leaves three questions unanswered
An effective resolution would require more transparency about the variable pay of Sikka. It would require a detailed explanation of why exactly the board signed off on Bansal's severance (and there is some confusion on who initiated the generous payout)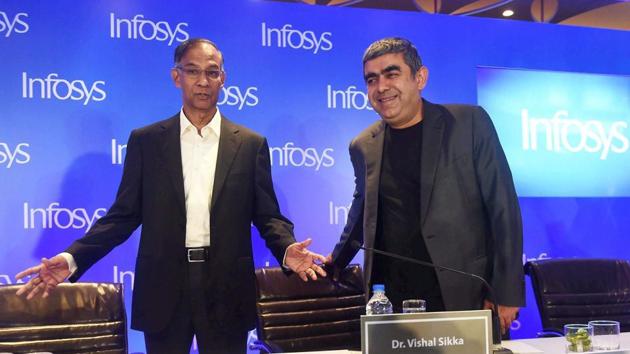 Updated on Feb 20, 2017 09:00 AM IST
"They democratised ownership; we democratised management," Wipro chairman Azim Premji once told me (and only half in jest), while referring to his company's cross-town rival Infosys. This was in the early 2000s and Premji and his family owned most of Wipro, although the company was run by a professional CEO (and had been, for some time). Infosys' founders had significantly diluted their stake by then, but it was evident even back then that they would take turns to be CEO.
Rishad Premji's entry into the company seemed to suggest things were changing at Wipro, but over the past few years it has become clear that Premji Jr, while wanting to be associated with the company at a senior level, doesn't really want the CEO job. Happenings at Infosys over the past few years indicated that things were changing in that company too. The appointment of Vishal Sikka as the first non-founder CEO of Infosys signaled the end of the corporate equivalent of the Divine Right theory at that company.
Over the past few days, though, the clock appears to have been turned back at a firm that once stood for all that was good and great about the new wave of Indian companies.
Read: Founder tantrums at Infosys: Is the ordeal over?
It has been evident, at least since April last year, that all isn't well between some of the founders of Infosys and the current management and board. Mint ran a series of stories about this, although, in their on-record comments, both sides (represented by Sikka and chairman R Seshasayee on one side, and former chairman and co-founder N R Narayana Murthy on the other) continued to insist that everything was all right.
Still, the murmurs refused to go away. The issue blew up in mid February, with Murthy choosing to air his grievances in public. His strategically timed outburst came months after DN Prahlad, a former Infosys employee and a relative of Murthy, was appointed to the board – an attempt of sorts by the board to buy peace with the founders – and subsequently named to the Nomination and Remuneration Committee of the board. Clearly, that wasn't enough.
Read: Infosys row: Where it stands, from Vishal Sikka's salary to Bansal's severance pay
There were six points of conflict.
The first, a really petty one, had to do with Sikka's use of charters to get around the various Infosys offices and to and from meetings every time he came to India (he is based in the US). This was a departure from the norm in a company whose founders only flew economy within the country and started flying business on long international flights only after the deep vein thrombosis scare. And it was definitely not what Murthy, a man who told an investor magazine (in the late 1990s or early 2000s) that he ran his household on Rs 7,000 a month, would have done. Indeed, for sometime in the 2000s there appeared to be competition between Murthy and Premji on who was more thrifty.
The second, which happens almost always in a company when a new CEO takes over, involved Murthy loyalists carrying tales about Sikka's management style to their mentor.
Read: Rajiv Bansal, focus of Infosys row, resigns as Ola CFO
Neither is significant, although the second has learnings on letting go for departing founders and CEOs.
The third had to do with the appointment of Punita Kumar Sinha, the wife of minister Jayant Sinha, as a director on the board. Murthy and some of the other founders believed this went against the Infosys principle of steering clear of politics. They may have had a point, although Sinha (like her spouse) is an accomplished professional in her own right.
That leaves four, five, and six, and these were (and remain) significant.
One involved the CEO's compensation. In February 2016, the board of Infosys decided to reward Sikka with a 55% increase in salary to $11 million. The founders considered this excessive. The other had to do with allegations that all wasn't above board in Infosys' acquisition of Panaya Ltd for $200 million.
And the last had to do with the handsome severance package paid to CFO Rajiv Bansal last year, which some saw as hush money allegedly to do with what happened during the Panaya acquisition.
Last week, after the dust had settled, Sikka said there was nothing untoward in the Panaya acquisition and Seshasayee said the CEO's compensation had been decided by the Nomination and Remuneration Committee of the board and duly approved by shareholders. The chairman also admitted that it could have managed Bansal's severance better. None of these explanations are satisfactory, which is why I am not convinced, despite the current lull in proceedings, that an affective compromise has been reached between the board and the management, and the founder-promoters who continue to hold around 13% of Infosys' equity.
An effective resolution would require more transparency about the variable pay of Sikka. It would require a detailed explanation of why exactly the board signed off on Bansal's severance (and there is some confusion on who initiated the generous payout). And it would require an investigation, perhaps by an audit firm or a law firm, of the Panaya acquisition. If, as I have been told, the board commissioned not one, but two such investigations that have shown no wrongdoing, then their reports must be publicised.
Over the past few weeks, there has been a growing perception of Murthy as an interfering busybody who is having difficulty letting go and accepting that Infosys is no longer his company. That may not be entirely incorrect and it would be easier to accept the explanations of Messrs Sikka and Seshasayee and move on.
That would be a mistake.
R Sukumar is editor, Mint
letters@hindustantimes.com
Close Story
Personalise your news feed. Follow trending topics