Regulatory overhaul on GM crops can save lives, environment
If the Genetic Engineering Appraisal Committee and Central Insecticides Board & Registration Committee, regulating GMOs and pesticides, are transparent with bio-safety data and stringent, fatalities due to pesticide poisoning will be checked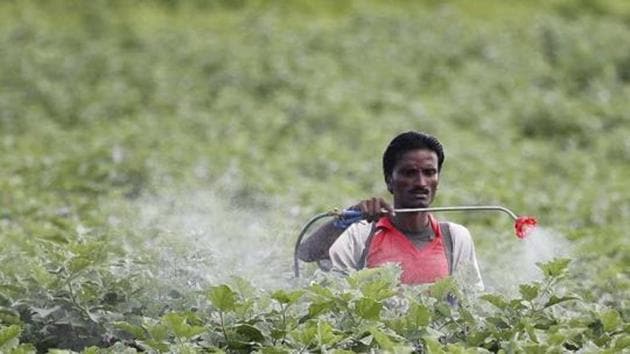 Published on Oct 31, 2017 04:08 PM IST
The recent episode of pesticide poisoning resulting in 40 deaths and the hospitalisation of more than 700 farm workers and farmers in Vidarbha, Maharashtra, showcases the dismal state of regulation for pesticides in India. Similar reports are coming in from Telangana too. It is alarming that such a recurring hazard is allowed to continue without concrete preventive steps.
Such poisoning is a reflection of the government's apathy to upholding a fundamental right of all citizens — the Right to Life. Information shows that India continues to use 93 pesticides that have been banned or severely restricted elsewhere in the world. Eighteen pesticides are WHO Class I pesticides, classified such for their acute toxicity. The government listed only 66 pesticides as banned when the last review took place.
The episode also showcases the failure of 'Bt technology' or the genetic modification of plants by inserting the Bacillus thurengiensis gene to control pests. The poisoning cases that we studied in a fact finding visit to Yavatmal, Maharashtra involved deadly mixtures of pesticides were being used to control multiple pests on Bt cotton. Farmers repeatedly mentioned the survival of all three kinds of bollworms on their standing crop.
Fifteen years after Bt cotton was allowed in India, the total insecticide usage in cotton has more than doubled. It increased from 4,600 MT in 2006 (when rapid expansion of Bt cotton began) to 11,598 MT in 2013. The per-hectare usage shot up from 0.50 kg/ha in 2006 to 0.97 kg/ha by 2013.
Bt cotton was brought in to ostensibly control bollworms, and reduce chemical pesticide usage, after the very corporations which made their profits on pesticides showcased the ills of these poisons and claimed that GM seeds were the solution. These corporations, however, did not close down their chemical business.
It was on this Bt cotton as well as illegally-sold herbicide tolerant (HT) cotton that most of the farmers in Vidarbha were frantically spraying various pesticides. The large scale unauthorised cultivation of HT cotton also means the illegal use of glyphosate (which is not to be used in cotton), spurring the growth in consumption of this chemical banned or restricted elsewhere. Civil society groups have complained to the regulators repeatedly on the dangers of glyphosate, but to no avail.
Incidentally, GM mustard, which is at the centre of public debate in India now, is also herbicide-tolerant and can withstand the direct spray of a weed killer called glufosinate which recently the French health regulator disallowed.
That brings us to the functioning of the apex regulatory bodies for GMOs as well as pesticides in India. The Genetic Engineering Appraisal Committee (GEAC) as well as Central Insecticides Board & Registration Committee (CIBRC) have similar mandates, of protecting citizens' health and environment from the dangers of two agri-technologies, transgenics and pesticides respectively.
However, both regulators function opaquely with no bio-safety data being shared publicly. The two do not insist on independent scientific evidence and scientific scrutiny. No long-term research is made mandatory for assessing chronic impacts. A clear liability regime is missing, which would otherwise make specific parties accountable when things go wrong. Both regulators disregard the constitutional authority of state governments over agriculture, and keep crucial decision-making with the Centre whereas states (and farmers and other citizens) are made to contend with the negative fallouts of these technologies.
One of the better ways they can uphold their regulatory mandates is by beginning with a critical, yet simple step: When an application is received, ask whether that particular GMO or (synthetic) pesticide is needed in the first place and whether there are no alternatives.
Many of these issues have been highlighted by the Renuka Chowdhary-led Parliamentary Standing Committee on Science & Technology/Environment & Forests in its recent report tabled in Parliament. In a crucial hearing on the matter on November 22, the Supreme Court is expected to adjudicate on the matter of recommendations given by its own independent technical experts. It is hoped that a regulatory overhaul is taken up for both GMOs and pesticides that actually fulfils the mandate for regulation: Protecting citizens' health and environment from the risks of these technologies.
Kavitha Kuruganti is convenor, Alliance for Sustainable & Holistic Agriculture (ASHA)
The views expressed are personal
Close Story