RIP Gauri Lankesh, the journalist-activist who had the courage to speak her mind openly
Sep 06, 2017 11:10 AM IST
Gauri Lankesh, a senior Kannada journalist known for her criticism of Hindu extremism, was shot dead at her home on Tuesday evening.
You hear of journalists being killed in Mexico city, Turkey, Ukraine and all the other far away cities and countries. You sigh, and move on with life. But, when the killers turn up a few kilometres from your house and shoot dead someone you have known for years and admired for her spunk, the shock is paralysing. That is the feeling uppermost in me on hearing the news of the murder of a dear colleague Gauri Lankesh.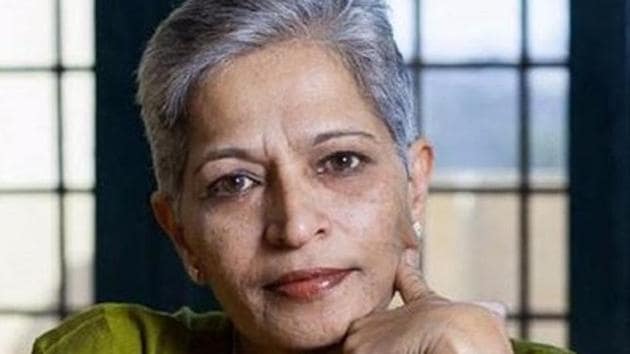 Memories of the times spent with Gauri discussing stories over coffee, talking politics and general gossip about this and that flit through the mind in a mad jumble spread across 35 years. Hard to believe that so much time has elapsed since I first met her when I joined the then weekly newspaper Sunday Mid-Day in Bangalore. She was there as well, as a trainee.
Gauri was a typical reporter — sniffing out stories, reporting on events of all kinds and having fun like most others. She shifted to Delhi for a while after her marriage and I remember visiting her a couple of times at home for dinner and gup shup.
Over time, we did move our own ways. Gauri returned to Bangalore in the '90s if my memory serves me right. That was the turning point for her...she metamorphosed into a political activist-journalist. Gauri emerged in a different form from what one had known of her earlier. Post the Babri Masjid demolition in 1992, she made it to the newspapers as a strong votary against communalism.
The Gauri one had known all along was now taking the lead in condemning growing communal polarisation. She was constantly in the media glare at the head of the Forum for Communal Harmony (Karnataka Komu Souharda Vedike). In the middle of all this, she got embroiled in a filial fight over her legendary journalist-father Lankesh's newspaper called "Lankesh Patrike". The business split into two newspapers, and she became the editor of one of them.
Karnataka has had a minor strand of the Naxal movement. And, lo, Gauri was in the thick of this too – arguing for justice to tribals and forest-dwellers in parts of the state. She, along with her band of activists, was responsible for influencing a few Naxal activists to give up their armed movement and return to open political life.
When one referred to Gauri as spunky, there was good reason. She took on right-wing activists belonging to the RSS, BJP and their various fringe organisations. There was no doubt she had made a considerable number of enemies. There were times when she became the target of verbal attacks from her political opponents. She was roughed up a few times. But she never seemed to give up.
There were defamation cases as well, filed by irate Sangh Parivar politicians. She was convicted too recently, but that was par for the course for this journalist.
For someone like me who knew her all these years, I must confess that we were not friends on Facebook, nor on WhatsApp or any other social media. Yet, it was as if I did not need all these to stay in touch with her. For, either she was writing columns in various newspapers, or part of the news itself with her "in your face" opposition to the Hindutva brigade or for her participation in some event or the other in favour of communal harmony.
Gauri was among those strongly condemning the murder of the noted writer MM Kalburgi. She probably never imagined that one day she would fall in the exact same fashion — four armed men shooting her point-blank at her residence, in Rajarajeshwari nagar, a well-populated and busy middle-class locality.
One thing one can say with certainty — in recent years there has been no other journalist in Karnataka with the courage to speak her mind openly, publicly without mincing words. Our most recent meeting was a few months ago during the release of journalist Rana Ayub's book on the Gujarat riots. After the event, Gauri told me it was a long time since we had a coffee and that we should meet and talk things.
That, as it happens in most such situations, remained just a plan. And, now, it is too late.
(The writer is an independent journalist based in Bangalore)