Tillerson's visit will define geopolitics for the US in the Asia Pacific
Oct 23, 2017 02:45 PM IST
In responding to the US overture, therefore, India will need to be nimble in its responses, not expect too much, but also seize the opportunities.
Prior to his first official visit to India which begins today, US Secretary of State Tillerson chose to make a major policy speech on October 18 at the prestigious Center for Strategic and International Studies in Washington DC, entitled "defining our relationship with India for the next century".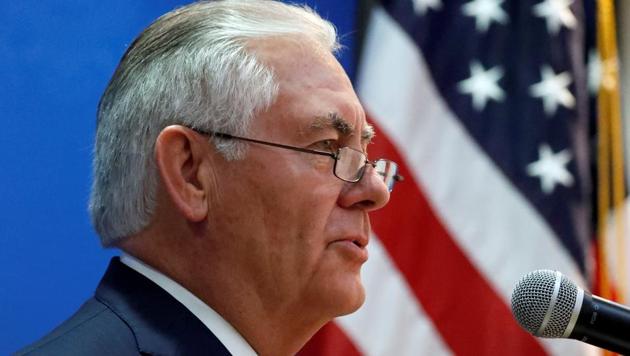 There was much in his comments marking continuity and consolidation from steps taken by previous US administrations, since President Clinton's ice breaking visit to India in 2000. However, there were significant new elements and formulations which will test the willingness and capabilities of both the countries.
President Clinton's visit had followed US re-evaluation after initially orchestrating condemnation and sanctions against India in the wake of our nuclear tests in May 1998. President Bush cut the Gordian knot with the civil nuclear cooperation agreement, which also enabled cooperation in higher levels of technology in other areas, including defence. President Obama became the first US President to visit India twice in his tenure, the first to visit as chief guest on our Republic Day, to articulate support for India's permanent membership in UN Security Council, and to declare India a Major Defence Partner. Hillary Clinton, as secretary of state, had delivered "remarks on India and the United States: A vision for the 21st century" in Chennai on July 20, 2011 touching on themes similar to Tillerson, including the potential for collaboration in the Asia- Pacific region, and had often used the phrase "Indo- Pacific" as a deliberate geopolitical signal welcoming India's growing role in this wider region.
Secretary Tillerson this time added that "security issues that concern India are concerns of the United States". Short of a formal alliance commitment, this is a significant "commitment to India's sovereignty and security". If the US works to operationalise this commitment on a sustained basis, to enhance India's security capacity, higher level technology releases, creating space for India's economic rise, "fully embracing its role as a leading player in the international security arena", clearly new vistas will open for the bilateral relationship.
Tillerson also said that "India and United States should be in the business of equipping other countries to defend their sovereignty". It could be legitimately asked if he is signalling a US willingness to contribute to Make in India in defence, and potential export of defence related equipment from India.
Many analysts have argued that President Bush's strategic opening to India was guided by the need to shape the environment around the rise of China. The Obama administration, while also recognising this compulsion, often gave varying signals. In its early phase in 2009- 2010, it often spoke of "strategic reassurance" to China, of accommodating its rise and a peaceful integration into the international mainstream. However, faced with China's challenge to international norms, it also spoke of a "pivot" or "rebalance" in Asia, but was unable to take any meaningful steps because of new challenges and commitments in West Asia and Europe. President Trump's comments on China have also swayed between calls for action against to cooperation with. He will be visiting China on November 8, and what he will say there remains to be seen.
Tillerson's comments on China, however, were among the strongest from any senior US leader. He spoke of China's rise being less responsible (compared to India), "undermining the international, rules- based order… China's provocative actions in the South China Sea…predatory economics" etc.
Given the challenges in our own relationship with China, a realistic US assessment of the consequences of China's rise, and willingness to strengthen India will naturally be welcomed here. China would also approach its issues with India differently if it sees international support rallying behind India. However, the US relationship with China will be a complex dance. There are strong trade, investment and financial interlinkages for the US to consider a Soviet Union like containment approach. The likely scenario will be of cooperation and push back, and seeking partnerships to "shape the environment in the Asia Pacific" to condition Chinese actions and responses. In responding to the US overture, therefore, India will need to be nimble in its responses, not expect too much, but also seize the opportunities.
While reassuring in this speech on China, Tillerson was perhaps less so on Pakistan. He spoke of Pakistan being an important US partner in South Asia, and that US "relationships in the region stand on their own merits". While India would also welcome such de-hyphenation, more would have been expected than merely "expect(ing) Pakistan to take decisive action against terrorist groups based within their own borders". He obviously did not want to queer the pitch before his own visit there on the way to India, or the present short term US strategy to give Pakistan some time to respond to the demands from the new administration. It can also be expected that after giving some reassurances on China, Tillerson may seek to persuade Indian leaders to kick start some process with Pakistan.
Tillerson's visit is important. President Trump has signalled positively on India, including during the PM's visit in June. Defence secretary Mattis has committed to advancing cooperation. It is helpful to get a buy in for the relationship also from Tillerson, despite the criticism and uncertainties he faces in the US about the effectiveness of his role so far, and the volatility of his relationship with Trump.
Arun K Singh is a former Indian Ambassador to the United States
The views expressed are personal
"Exciting news! Hindustan Times is now on WhatsApp Channels
Subscribe today by clicking the link and stay updated with the latest news!"
Click here!