Why religion and building temples is a profitable business in India
Jul 01, 2017 03:25 PM IST
Public spaces are increasingly usurped by unscrupulous entrepreneurs to build shrines. And we know from experience that once gods and religious figures get installed in a place, they cannot be dislodged.
Last year, the number of foreign tourists who came to India was about 90 million. By contrast, domestic tourism totaled over 1,400 million visits; clearly suggesting that its implied economics are far bigger than the foreign business. It also suggests that very many of our people make several trips for tourism every year. While the concentration of the central government's tourism promotion efforts focus on the Delhi-Agra-Jaipur "golden triangle" the highest number of foreign tourist arrivals (20.1%) are in Tamil Nadu. Delhi draws half that. The southern states see the most foreign and domestic tourist traffic because of the number of important religious places like Madurai. The location of Tirupati within it makes Andhra Pradesh India's biggest domestic tourist destination. Religious tourism is now very big business. What does this suggest?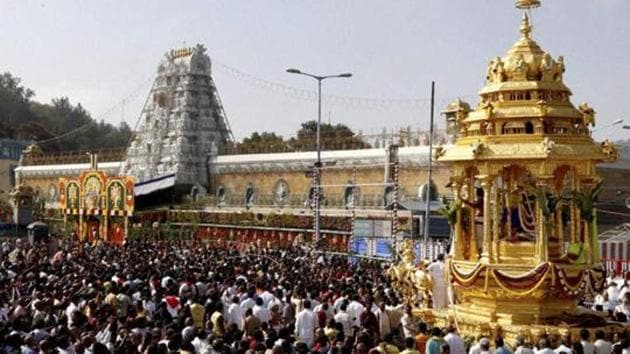 The Pew Global Attitude survey study shows that more than 25% of Indians reported having become more religious over the past four-five years. The trend is valid across religions and in keeping with other attitudinal surveys. Between 2007 and 2015, the share of respondents in India who perceived religion to be very important increased by 11% to 80% now. The National Sample Survey Office (NSSO) report shows that average expenditure on religious trips has more than doubled during this period. Clearly this is a rapidly expanding business sector and given the trends, the sky is the limit.
While the economic activity and the employment it generates are a cause for happiness all around, we must also ponder about the other ramifications of this growing religiosity. The growth of blind faith, superstition and aggressive religioneering present a clear and present danger to India evolving as a modernising society which values reason and tempers collective behaviour. The building of temples is a profitable business. That's why public spaces are increasingly usurped by unscrupulous entrepreneurs to build shrines. And we know from experience that once gods and religious figures get installed in a place, they cannot be dislodged.
With religiosity and religioneering big business now, it is increasingly common to see governments promoting "religious tourism."
Actually there is increasingly an unstated and subtle competition now implying that my idol is better than yours. The Venkateshwara temple at Tirumala is India's biggest money-spinner. This Vaishnavite shrine attracts 40 million devotees each year. Telangana has now embarked on promoting the Yadagirigutta temple near Hyderabad to become a religious tourism draw. Under the CPM government, Kerala temple boards actually advertise the magical powers of their stone idols. Communism was supposed to make us rational and believe God was a figment of mankind's imagination.
Jawaharlal Nehru wanted the new India to be guided by reason and infused with the scientific temper. Instead we are now increasingly a people driven by dogma and blind faith. Religion and blind faith are our biggest faultlines and the cause of much social friction and breakdown of orderly public behaviour and order.
To make a point, Nehru never visited religious places lest it be seen as an endorsement. We now increasingly see our constitutional authorities and prominent personalities making highly-publicised visits to places of faith but also of unreason. We have seen our leaders make extravagant offerings to deities as part of fulfilling a promise that they would do so if elected. Most politicians have favourite places of worship. To stretch the point, even the flourishing business of godmen and women are growing. After his recent death, many commentators wrote of Chandraswami as a self-styled conduit between god and ordinary people. So instead of discouraging blind faith, our politicians encourage it in many ways. The late Sai Baba had a devout following among the political class.
It is not my point that religious tourism is in itself a bad thing, in fact it is good for the economy. My grouse is with the often regressive values associated with religion which is not the same as true faith and spirituality. Religious shrines across the world are a big draw, and India is no different. Politicians are well within their right to worship their gods, but not at the expense of the taxpayer. Unless they consider this to be a part of business promotion.
Mohan Guruswamy is an economics and policy analyst. The views expressed are personal
"Exciting news! Hindustan Times is now on WhatsApp Channels
Subscribe today by clicking the link and stay updated with the latest news!"
Click here!