Women's Day: Please don't promise CCTVs for their safety
Mar 08, 2017 02:05 PM IST
The focus on CCTVs detaches the struggle for women's liberation from its essential core of also being a struggle against caste, class, sexuality, ability and religious power. It imagines women's safety as a standalone monitoring issue instead of as the consequence of systemic power dynamics.
Imagine a city with a camera at every street corner to record your move. You step out on a breezy March evening to enjoy the cold with your partner but there's not a moment of anonymous pleasure to be had.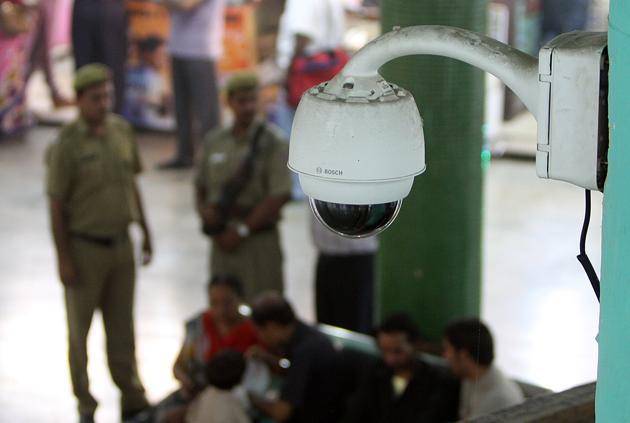 An app on your phone buzzes to locate areas declared unsafe for women, and it includes every place you used to frequent – the "unsupervised" Jahapanah forest, the "dark" bylanes of Mehrauli and the low-income parts of Jamia Nagar he lives in. The safety that was supposed to set you free has locked you in. The makings of this dystopia are swirling around us – in recent years, every incident of crimes against women in Indian cities has been followed by a torrent of discussion on bolstering safety mechanisms for women.
But as a string of crimes in Bengaluru showed earlier this year, the imagination of safety for women in public spaces always ends up focusing on monitoring their moves – by dotting the cityscape with closed-circuit television cameras. The Karnataka government responded to the allegations of rape and molestation by announcing the purchase of 550 more CCTVs, never mind that the thousand-odd such devices had failed to stop the assaults in the first place.
When AAP came to power in Delhi in 2015 on the back of a pledge make the national capital more safe for women, the first thing it promised was more CCTVs and marshals on buses. Two years on, rapes are as rampant as ever and few women take night buses, despite the token marshals.
The focus on CCTVs is a dangerous trend because it erases the socio-economic history of women's safety and reduces it to a question of State surveillance, in the process prioritising resources to purchase of cameras and cementing existing biases.
"The core philosophy behind the proliferation of CCTVs is an unsubstantiated claim – that people are likely to be deterred from exploiting their historically accumulated power to harass women if they know cameras are watching them," says Jasmine George, a women's rights activist whose organisation Hidden Pockets maps cities.
Remember, she adds, that no such deterrence was effected by tough laws or policing but it is assumed that CCTVs – which at best are crime solving and not crime deterring tools – will be the magic bullet. In London, in spite of having more security cameras than any other country in Europe, only 3% of street robberies in London were solved using CCTV images in 2015.
Additionally, this bolsters the notion that crimes against women are always inflicted by unknown persons -- the ubiquitous stranger rape – and erases that most such violence happens within the home, by family members, where there are no CCTVs.
The diversion from a movement seeking a social power structure change to one that stresses on monitoring hurts those who need the narrative to change the most – women locked inside the family. Ten cases of cruelty by husband and relatives are reported every hour across the country as per the National Crime Report Bureau.
But even if the tenuous connection between CCTVs and crime solving is established, surveillance technology still points towards a disquieting phenomena. To understand this, we have to look towards the past.
This isn't the first time such a solution has been proposed. In the early 90s as India woke up to the neoliberal boom, gated colonies sprang up across our cities, advertising themselves as "self-sufficient" islands of safety for women. People from certain backgrounds flocked to these colonies, satisfied in the promise that limiting interaction with others and hemming women within the fences will keep them safe. But who were these "outsiders"?
They were the weaker caste colonies that supplied household help, the low-income neighbourhoods from where the fruits and vegetables were stocked in the departmental stores and the slums from where labour was sourced. They propped up our gated colonies but were denied entry at the gates, all in the name of safety.
Something similar is happening now. CCTVs don't have brains, they are installed in areas where humans have historically been trained to associate danger with. "And in most of our cities, crimes against women are unjustly associated with poorer neighbourhoods, slums, Dalit colonies and Muslim-dominated neighbourhoods," says George.
In Kolkata, for example, even the presence of an all-women college and some of the city's most-famous eateries in the heart of the city have failed to rid Park Circus of its tag of being unsafe for the "bhadromohila".
"In Bengaluru, we have already seen the crimes being blamed on Muslims from Shivajinagar and outsiders – the migrant labour from northern Indian states such as Bihar and Uttar Pradesh," adds George. Cameras will do little to stop such caste-class-religion based profiling of those whom who we think are threats to women.
This, then, brings us to the next question. Who will the CCTVs make feel safer? What kind of bodies will be afforded protection and who will be deemed expendable? The gentrification – which included CCTV installation -- of Kolkata's biggest lakeside park threw sex workers and transfolk onto the streets and made them far more susceptible to police and stranger violence.
Will the CCTV-installing authority think of fisherwomen who bring their wares to the city at the crack of dawn or domestic help who use public transport to reach our homes before we even wake up?
"Video surveillance as a one-stop solution is rooted in the imagination where the State keeps an eye on its citizens 24X7. We already have social media keeping a tab on our lives online, we have vigilante groups on the web and on the streets and citizens. The last blow to this liberation will be machines tracking our movements and our streets and homes under constant surveillance," says George.
In the process, the resistance against entrenched power structures that looked at women's issues as an intrinsic part of an anti-caste, pro-poor, pro-disability struggle will be erased.
The bare bones notion of women's safety is agreed upon by all shades of political opinion – from caste supremacists and the religious right to liberals, libertarians and women's groups. The difference lies in how women are imagined – as part of family or social honour, as treasure to be locked away or as full individuals who have the right to public spaces and to move unhindered.
The focus on CCTVs detaches the struggle for women's liberation from its essential core of also being a struggle against caste, class, sexuality, ability and religious power. It imagines women's safety as a standalone monitoring issue instead of as the consequence of systemic power dynamics.
But worst of all, it thinks of women as objects of surveillance governed by fear instead of as elements of liberation driven by pleasure. If you are looking for a romantic evening with your partner, CCTV is not the way to go.
@dhrubo127