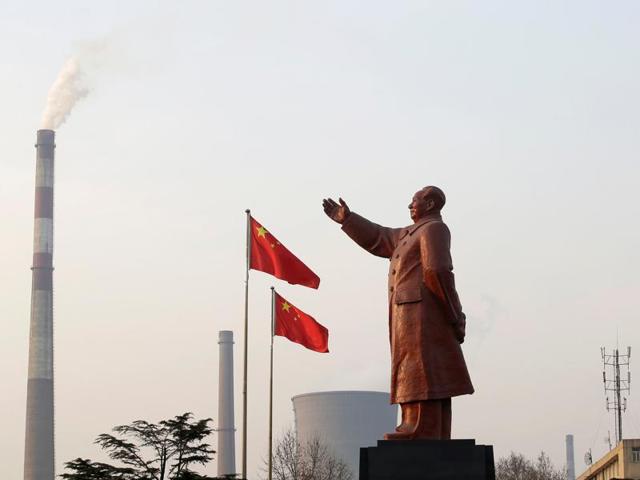 Xinhua, China's news agency and 'propaganda tool'
India last week expelled three Xinhua journalists by refusing to renew their visas to work in the country.
UPDATED ON JUL 25, 2016 03:26 PM IST
China's state-run Xinhua news agency is no stranger to controversy, having been accused by governments and journalistic bodies of spreading disinformation at the behest of the ruling Communist party, biased coverage and even espionage.
India last week expelled three Xinhua journalists by refusing to renew their visas to work in the country after they came under the "adverse attention of security agencies" for allegedly indulging in activities beyond their journalistic brief.
Xinhua (pronounced shin-hua) was formed in 1931 as the Red China agency, has nearly 110 bureaus worldwide and describes itself on its website as one of the world's "most influential news portals". In recent years, it has been increasingly cited as a news source for China and features regularly on Google News.
But in a damning 2005 report, Reporters Sans Frontieres (RSF), based on an investigation and interviews with serving and former Xinhua journalists, described the organisation as the "world's biggest propaganda agency" that is at the "heart of censorship and disinformation put in place" by the Communist party.
Serious consequences await India for evicting 3 journos: Chinese media
In August 2012, Canadian journalist Mark Bourrie quit working for Xinhua after accusing it of directing him to spy on the Dalai Lama in Ottawa.
Bourrie alleged his Chinese bureau chief wanted him to use his parliamentary press accreditation to cover the Tibetan spiritual leader's news conference, gather information on the Dalai Lama's meeting with the Canadian prime minister and turn over all notes and materials without writing any reports. He also alleged there were individuals within Xinhua who acted as "spies" to monitor the Falun Gong spiritual movement and critics of the Chinese government.
A year earlier, Canadian MP Bob Dechert was widely criticised for exchanging "flirtatious" emails with Xinhua's Toronto-based correspondent Shi Rong. Both of them were married.
Several Western intelligence agencies have for long suspected that Xinhua has links to China's spy agencies.
In the US, the US-China Economic and Security Review Commission, a Congressional body that monitors national security issues, said in a 2009 report that Xinhua "also serves some of the functions of an intelligence agency, gathering information and producing classified reports for the Chinese leadership on both domestic and international events".
The Commission also said that China's ministry of state security "makes extensive use of the news media covers, sending agents abroad as correspondents for the state news agency Xinhua and as reporters for newspapers such as the People's Daily and China Youth Daily".
Two expelled Xinhua journos hid identities to visit Tibetan camps
Xinhua also employs many genuine journalists, but the RSF report said many serving and former employees said they were closely watched, especially during foreign assignments, and made to work that wasn't satisfying from a journalistic point of view, such as basing their reportage solely on releases and statements from Chinese ministries and translating reports from the foreign media.
The use of journalists for espionage isn't exactly new. It goes back to the 1920s and 1930s when Western journalists and authors working as foreign correspondents weren't averse to a little espionage on behalf of their national spy services. In 2010, Britain's MI6 intelligence service admitted Graham Greene, Somerset Maugham and Malcolm Muggeridge all worked for it. Last year, author Frederick Forsyth acknowledged in his autobiography that he worked for MI6 for more than two decades.
But this is a trend that has largely declined in the West.
However, Xinhua remains firmly in the control of China's Communist party--its president is a member of the party's Central Committee--and the RSF's 2005 report was replete with instances of the control imposed by the Communist party's Propaganda Department, journalists being indoctrinated and producing classified reports for the Chinese leadership.
Close