Asian Wrestling Championships: Ravi Kumar Dahiya wins gold, Bajrang Punia loses in final
Ravi outclassed Tajik grappler Vohidov Hikmatullo 10-0 to win India's only Gold medal in the 57Kg freestyle category.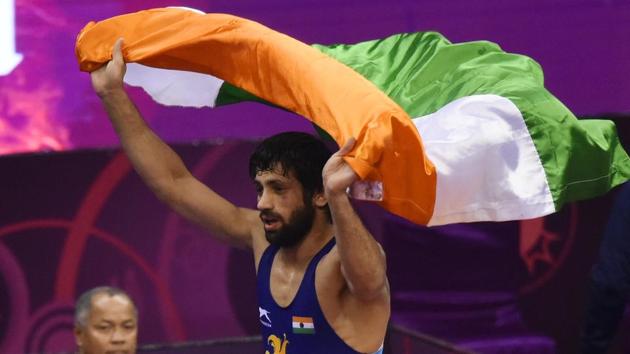 Updated on Feb 22, 2020 10:52 PM IST
New Delhi |
Avishek Roy and Navneet Singh
It was a loss that gave Bajrang Punia several sleepless nights. Japanese Takuto Otoguro had fully exploited Punia's weak leg defence, leaving him gutted, in the 2018 World Championships final. If he needed a mental edge over one of his biggest competitors before the Tokyo Olympics, it was on Saturday. Punia had the opportunity to exact revenge in front of a home crowd in the 65kg gold medal bout at the Asian Championships here. But the result turned out to be no different. Otoguro once again asserted his supremacy over one of India's biggest medal hopes at the Tokyo Games, crushing him 10-2.
A nervous hush descended on the near-packed KD Jadhav Indoor hall as Otoguro effortlessly racked up points by foiling Punia's attacks one after the other. Towards the end, Punia cut a sorry figure, exhausted and frustrated at not being able to score; his legs were becoming heavy and came under Otoguro's grasp with regularity. Punia did well to defend his legs at the start but once Otoguro started to break down his physical game with his lightening quick counter-attacks, the contest became painfully lopsided. This defeat would hurt Punia more than at the Worlds where he had bounced back and at least kept himself in contention. Punia walked out of the arena in a huff, waving his hand to the media, waiting to speak to him.
Surely, there were many questions that Punia and his coach Shako Bentinidits would have to quickly find an answer to. "The 65kg is the toughest category where 10-11 wrestlers are at the same level," said Bentinidits.
"Maybe people think every time Bajrang will win gold but it is not possible to stay at the same level for two years. Better to lose now than at the Olympics. He has to give everything there, this is not important. "Otoguro is very fast and has quality attack. Punia is a little bit slow and a physical wrestler. We have time and heart to bounce back," said Bentinidits.
Punia later said he would work on his shortcomings. "I have to work on my defence and will speak to my coach."
Otoguro was satisfied with his performance. "Punia was slippery with sweat, so I thought of aiming for his shoes and socks (low tackle). I have a lot of experience now and I want to gain momentum before the Olympics. I have a plan and if I can execute it well I will have the confidence to win gold at the Olympics," said Otoguro.
Till he met his nemesis, Punia had not put a foot wrong. He had muscled through his opponents in a brutal show of strength and stamina. With his two main rivals Otoguro and Daulet Niyazbekov on the other half of the draw, Punia was cruising through his fights, conceding only two points in three bouts in the morning session. He first demolished Dzhamshed Sharifov of Tajikstan by technical superiority (11-0) with more than a minute left on the clock. Punia then swiftly powered past Abbos Rakhmonov of Uzbekistan 12-2 and Iran's Azim Amirhossein (10-0). While Punia was hammering his opponents, Otoguro and Niyazbekov were locked in a tough battle in the quarter-finals which the Japanese eventually won with a 10-3 scoreline to set up a clash with his Indian rival.
Ravi Dahiya wins gold
Following Punia's loss in the final, Ravi Dahiya gave enough reasons for the home crowd to cheer by beating Tajikistan's Hikmatullo Vohidov 10-0. Dahiya had seen through his toughest rival in the very first round—2017 world champion Yuki Takahashi of Japan. In fact, he was relentless in his attacks through all his four bouts during the day.
Dahiya sensationally bounced back against Takahashi by rallying from 0-4 down. He scored a four-point throw in the second period to draw level. He then took full control of the contest to overpower Takahashi 14-5. He was zippy with his attacks and showed flexibility in escaping from tight situations.
The streak of aggression Dahiya showed continued throughout the day. In the quarter-final, against Mongolian Batjargal Tugs, Dahiya gave away two points to trail 2-3 in the first period. After the break, Dahiya, however, stepped up and went for the legs of Batjargal, eventually pinning him down with over two minutes left on the clock. Dahiya was under the activity clock in the semi-final against Kazakhstan's Nurislam Sanayev and opened the scoring with a double-leg attack. Sanayev's attempt to get hold of Dahiya legs did not bear fruit; the Indian expeditiously slipping out of his grasp. Another takedown gave him a lead of 4-0 and Dahiya comfortably sailed past 7-2.
Silver for Baliyan and Kadian
Gourav Baliyan, 18, has been fast emerging as the young face of Indian wrestling. Competing in his first major senior international tournament, Baliyan showed why he is regarded highly. A world cadet silver medallist, Baliyan also won the national senior title in 74kg—the category in which Sushil Kumar fights. Having lost the national trials in 74kg, Baliyan shifted to non-Olympic 79kg for the Asian Championships.
Baliyan embraced the big stage with little inhibitions. After getting past Mongolian Batzul Damjin 3-1, he tactfully dealt with the Japanese threat in Shinkichi Okui. He was quick to pounce on the opportunity in the second period, stretching his lead to 6-3 with a gut wrench. He shifted gears when needed, and despite suffering a takedown, he sneaked past 6-5 to seal his place in the final. Fighting for a gold medal against Kyrgyzstan's Arsalan Budazhapov, Baliyan put everything on the line in an attacking bout. The thrilling final saw leads change hands four times and Baliyan was ahead 5-4 with 40 seconds left on the clock. Budazhapov tilted the scales with a last-gasp attack and got an extra point as Baliyan lost his challenge. He finally won 7-5. "Both of us were attacking and it's just that his attack clicked in the end, or else I would have won gold. But I am happy to win a medal for India," said Baliyan, who hails from Shoron, Uttar Pradesh. "I will now be ready for the national trials in the 74kg for the Asian Olympic qualifiers next month," said Baliyan.
Satyawart Kadian had moved into the final pinning down Jordan's Zaid Husein Mohamad Haroun Shishani and Tajikistan Rustam Iskandari. However, he was no match for Iran's Mojtaba Mohammadshafie Goleij and lost 10-0 to finish with a silver medal.
Topics
Close Story