Dangal broke box office collection, this is what real Mahavir Singh Phogat got
Jan 28, 2017 11:09 AM IST
Dangal was on a record-breaking spree ever since its release. The biopic based on wrestler Mahavir Singh Phogat and his daughters Geeta and Babita Phogat collected a total of Rs 239.01 crore in nine days. Mahavir Singh Phogat received close to Rs 80 lakh
Aamir Khan's 'Dangal' is a super hit, doing business worth over Rs 300 crore within 17 days of its release, but Mahavir Singh Phogat, on whose life the film is based, is happy despite getting just a fraction of the sum.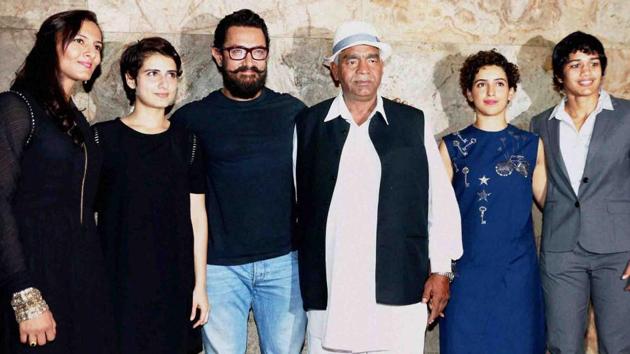 For sharing his family's journey to the wrestling arena, the former wrestler-turned-coach, it is learnt, received close to Rs 80 lakh. Though Phogat wasn't keen to talk about it, friends and family members say he is satisfied.
Since Indian wrestlers are strict vegetarians, milk products form a part of the daily diet and as a result, the Phogats invested some money into buying high-yielding buffaloes.
Phogat's daughters, Geeta, Babita, Sangita and Ritu, are wrestlers too. Ritu, the youngest of the sisters, had said before the Pro-Wrestling League (PWL) that a lot had changed since the film's release, the highlight being more girls taking to the sport in rural areas.
Ritu was offered a role in the film but the father wasn't keen. "I'd rather achieve in wrestling," she said after becoming the highest-paid wrestler, Rs 36 lakh, in the PWL II.
Geeta was the first Indian woman grappler to win gold at the 2010 Commonwealth Games in Delhi. The sisters' success on the mat can be attributed to Phogat, who got the Dronacharya Award last year.
Geeta might take a break from the sport after tying the knot recently, but her sisters are looking ahead to the new season.
Mahavir's dream of setting up an academy in his village Balali in Haryana is on hold. "We will talk to the government in this regard, let's see how things work out," he said.
For the time being, he plans to focus on his daughters and nieces, Vinesh and Priyanka. "All five are expected to train under him for the next couple of months and not attend the national camp," said a coach close to the family.