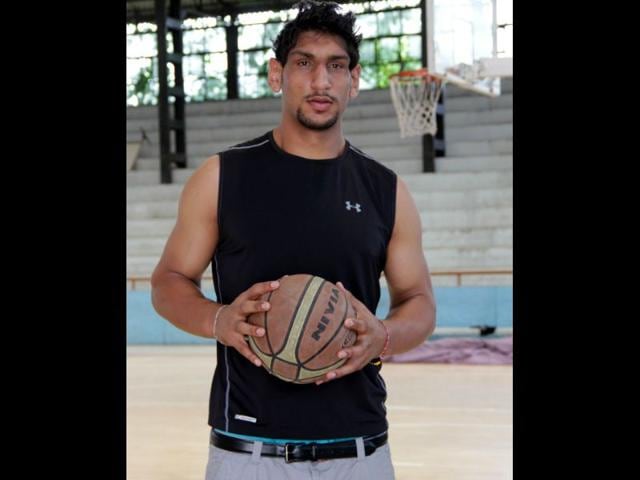 On making NBA draft, Satnam Singh recalls late coach Subramaniam
In his hour of success, Satnam remembered his coach, Dr S Subramaniam, who passed away in 2013.
UPDATED ON JUN 27, 2015 10:44 AM IST
While it was pure relief for Satnam Singh Bhamara after he was picked as the 52nd draft by the Dallas Mavericks, the wait to get to the Barclays Center in Brooklyn, New York, for the convention left the hoopster extremely nervous. So much so, he even skipped his meal.
"Forget sleep, I haven't eaten anything. Not just nerves, I just couldn't get my mind off the draft," the 19-year-old told the media via conference call minutes after the big moment happened.
"I wasn't thinking (about) anything other than waiting for my name to be announced...and give (the) Indians something to celebrate. But I was hopeful of getting that... they had called me all the way to New York, so I had a feeling that I might get drafted," he said.
Satnam's inclusion also ended the long wait for Indians to see a countryman in the elite league. "I know the Indian players will be happy as me being drafted will give them hope. Now, a road has opened for them to come through it...now the Indians can say there is one from the country who will play in the NBA, and this is the most important thing," he said.
Mavericks' owner Mark Cuban joked after the announcement, "We now have a billion more Mavs fans." Satnam too believes the popularity of the game will increase in the country after his success. "Previously, there was no one from our country in NBA, now we have one. This will definitely raise the popularity of basketball in the country. I'm sure one day it might even be as big as cricket," he stated.
In his hour of success, Satnam remembered his coach, Dr S Subramaniam, who passed away in 2013. "I have to thank Dr Subramaniam, who was my first coach. I am missing him today. It was his dream to see one of his trainees play in the NBA. If I have reached this far, it is because of his hard work and good wishes. Today, I have fulfilled his dream," he said.
Hailing from a small village, Ballo Ke, in Barnala, Punjab, Satnam could barely utter a sentence in English but today he is at ease with the language. "I'm comfortable in English, the only time it becomes an issue is when someone talks too quickly," he explained.
Close