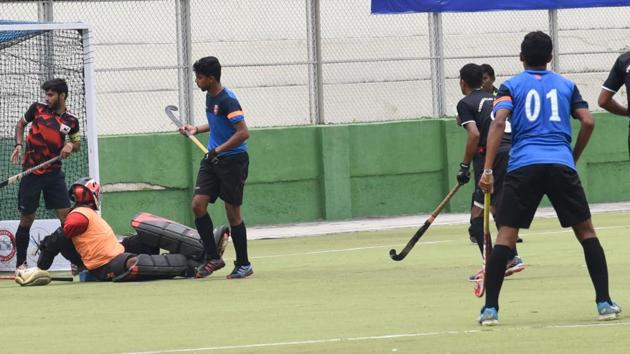 Hussain Silver Cup: Krida Prabhodini survive tough challenge to oust Vikram Pillay Academy
Krida Prabodhini enter quarters after eliminating Vikram Pillay Academy 4-0.
Hindustan Times, Pune | By Oumar Aga
UPDATED ON JUL 05, 2019 04:51 PM IST
PUNE: With teams fighting for a quarter final spot in the 8th Hussain Silver Cup at the Major Dhyanchand Hockey Stadium in Pimpri-Chinchwad, a much anticipated fixture saw Vikram Pillay Academy face-off against Krida Prabodhini. After a cagey game, Krida Prabodhini eliminated Vikram Pillay Academy, beating them 4-0.
QUARTER 1
The game got off to a slow start as both teams tested the waters. Krida Prabodhini got off the mark, courtesy a goal from Venkatesh Kenche, via a smoothly worked penalty corner. Shortly after the first goal, Vikram Pillay Academy won their first penalty corner, but couldn't convert the opportunity.
Towards the end of the first quarter the tempo of the game was quite slow and both teams were cancelling each other's attacks out. Vikram Pillay Academy had another opportunity from their second penalty corner of them game, but skipper Aman Sharma saw his effort fly past the goal as the first quarter ended with both sides sharing equal possession and Krida Prabodhini with a one-goal lead.
QUARTER 2
Krida Prabodhini started the quarter on the front foot as Dhairshil Jadhav pounced on a long ball played out from defence, only to see it saved by the keeper. Midway through the second quarter, Krida Prabodhini had a chance to double their tally from a penalty corner, but Aniket Gurav placed it wide.
Krida Prabodhini took the game to Vikram Pillay Academy as Harish Shindgi had a couple of good chances in a span of two minutes, but saw one shot saved and couldn't place the other one in the back of the net.
Krida Prabodhini won two consecutive penalty corners, but failed to convert. The second goal finally came through Rahul Shinde in the final minute of the second quarter.
Rahul took full advantage of the complacent defenders who just switched off and allowed the striker through.He calmly put the ball past a helpless keeper.
QUARTER 3
Vikram Pillay Academy's goalkeeper Rishikesh Shrivastav went on to produce some brilliant saves in the third quarter of the match. With the rain now pouring down, keeper Shrivastav made two exceptional saves from two penalty corners, denying Rohan Patil and Rahul Shinde. He was eventually let down by his defence as Krida Prabodhini went 3-0 up after a brilliant run from Venkatesh Kenche produced a beautiful cross, which caught the keeper off his line and ensured a tap-in goal from Harish Shindgi.Vikram Pillay Academy, now with a mountain to climb, looked tired on the pitch and Venkatesh Kenche took full advantage of that situation as the pacey striker won the ball in midfield and breezed past the defensive players, before putting into the net and giving Krida Prabodhini a comprehensive lead in the game in the last minute of the third quarter.
QUARTER 4
Krida Prabodhini came out strong in the final quarter of the game, but Vikram Pillay Academy finally started attacking, desperately looking for what could be a consolation goal.Rishikesh Shrivastav produced a couple of really good saves to avoid a humiliating scoreline. On the counter attack, we saw Krida Prabodhini's keeper Jivan Shinde pull off a great save to deny Vikram Pillay Academy's Rahul Terki, as the game finished 4-0.
Jatin Singh, Vikram Pillay Academy, coach, said, "We played with young players who were inexperienced. They still need to learn a lot and hopefully we'll do well in the future."
"We did not convert our chances, but we were very fit. Krida Prabodhini is a tough side to face and hopefully we'll get better in the future." said Rishikesh Shrivastav, Vikram Pillay Academy, goalkeeper
"It was a good game today. We are improving and our main aim now is to win the next match," Venkatesh Kenche, Krida Prabodhini, and HT's player of the match.
Excellency Academy, Krida Prabodhini, Hockey Pune enter last-8
Defending champions Excellency Academy, along with Krida Prabodhini, had to sweat, while Hockey Pune had an easy ride into the quarterfinals. The day began with Hockey Pune, who have run up two-digit scores in both their matches, walking into the last-8 after their opponents Prabhakar Aspat Academy had a "no show" resulting in a walk-over to Hockey Pune. On the other hand, two-time champions Excellence Academy were given a run for their money by Railway Police Boys before winning 3-2.
Excellency Academy found their opponents (Railway Police Boys) a tough nut to crack all through the game. Harsh Parmar (17th) opening the scoring for the defending champs, before Uday Baramatikar (28th) levelled scores (1-1) with a successful conversion of a penalty corner. Excellency Academy went ahead once again through Veenet Shetty (37th) and ten minutes later Rohan Muale (47th) brought Railway Police Boys on level terms (2-2). With the game on levels, Aniket Mutthaiya (49th) won it for Excellency Academy.
RESULTS: PQF
Hockey Pune bt Prabhakar Aspat Academy – W/o
PQF Excellency Academy 3 (Harsh Parmar 17th; Veenet Shetty 37th; Aniket Mutthiya 49th) bt Railway Police Boys 2 (Uday Baramatikar 28th; Rohan Musale 47th).
Half Time: 1-1
PQF Krida Prabodhini 4 (Venkatesh Kenche 6th, 45th; Rahul Shinde 6th; Harish Shingdi 41st) bt Vikram Pillay Academy 0.
Half Time: 2-0
FRIDAY'S FIXTURES (QUARTERFINALS):
12 Noon: Sports Authority of Gujarat v Rovers Academy 'A'
01:15 PM: Hockey Pune v Income Tax Department, Pune
02:30 PM: Mumbai Customs v Krida Prabodhini
03:40 PM: Excellency Academy v Mumbai Republican
Close