Miyawaki Model helps Pune citizens turn a barren hill slope into 'mini-forest'
Hindustan Times, Pune |
Prachi Bari
Sep 04, 2017 03:31 PM IST
It took one year's effort for Deepak Shrote, Nidhi Kulkarni, Pushkar Kulkarni, Ravindra Bhosale and Shailesh Valvaikar to adapt this model for their neighbourhood known as Rotary Hill and Kirti Garden Road.
It took passion and love for nature for a group of residents from Sus, Baner and Pashan to use the Japanese 'Miyawaki Model' to cover a barren hill slope with a dense, forest-like thicket.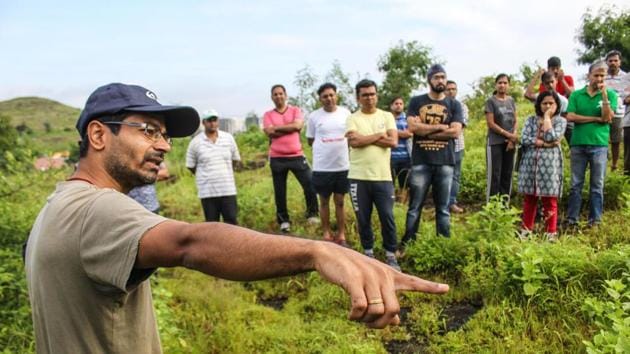 Developed by Japanese botanist Akira Miyawaki, this technique of dense forestation of native species was picked up over social media. It took one year's effort for the energetic team of Deepak Shrote, Nidhi Kulkarni, Pushkar Kulkarni,Ravindra Bhosale, and Shailesh Valvaikar to adapt this model to the once barren area in their neighbourhood known as Rotary Hill and Kirti Garden Road.
Stay tuned with breaking news on HT Channel on Facebook.
Join Now
"This technique tells you to do maximum plantation in limited space and to do it efficiently. But we have made a few tweaks to the Miyawaki way of doing this. We have made use of CCT (Continuous Contoured Trenches) and check-dams for arresting and percolating rainwater and ZBNF (Zero Bugdet Natural Farming). We have used natural farming techniques and locally sourced bio-fertilizers for infusing life into the soil," said Pushkar Kulkarni while speaking to this correspondent.
"We have used the five layered plantation method, tall tree, shrubs, grasses and climbers, we wanted the optimal survival of all. We have created eight check dams and between two check dams, we have planted 214 local varieties of trees, 40 species in a land belonging to the Pune Municipal Corporation," said Kulkarni.
The idea of the project objectives were to be frugal, look for local resources and create a model that can be replicated. Thus, coconut fibre and garden waste were put to good use in this drive for "forestation" and not "plantation".
"The plants are growing at a fast rate and it is very easy with what they have explained us. It's a good learning for all of us," said Pradeep Raheja, resident of Boat Club Road.
Wakad resident Sudhir Deshmukh said this technique would help housing societies deal with the challenge of recycling their garden waste. "This forestation method will provide us an avenue to put it to the right use," he said.
According to Simijeet Bhasin, this method is to be used in a limited space for intense forestation and at minimal cost. Rashmi Rajguru, resident of Baner-Pashan Link Road said more and more housing societies should be introduced to this technique.
We plan to propose to the PMC to have this in a central place, where it can be seen by many and will help people understand," said Ravindra Sinha, volunteer, Vasundhara Swachhata Abhiyan and resident of Baner Pashan Link Road.
Akira Miyawaki, the pioneer of this technique, studied vegetation throughout the Japanese archipelago, especially in ancient shrine groves and is reputed to have restored indigenous forests at over 600 locations throughout Japan.
His approach is to plant seedlings of as many main trees of the potential natural vegetation as possible, using mainly canopy tree species native to the region. From the day they are planted, the various species and individual trees undergo a process of natural selection through competition, resulting in the creation of a diversified natural forest.
Seedlings with extensive root systems are random planted in densely mixed plantings that match natural forest systems. The trees reach four metres after five years, eight metres after ten years, and over 20 metres after 25 years. The result is a diversified forest that is allowed to grow naturally after three years. According to Miyawaki's theory of forest regeneration, the best forest management technique is no management at all.