PMC, Maha-Metro sign MoU with Singapore-based company for multi-model transport integration
Jan 11, 2018 03:56 PM IST
The MoU has been signed for urban management and mainly multi-modal transport and integration.
The Pune Municipal Corporation and Maharashtra Metro Rail Corporation Limited have signed the tripartite Memorandum of Understanding (MoU) with Singapore Cooperation Enterprise and Temasek Foundation International on Wednesday.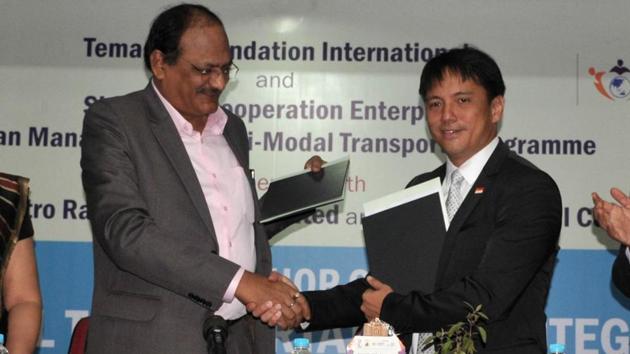 The MoU has been signed for urban management and mainly multi-modal transport and integration. The Singapore-based company also organised a three-day seminar at Yashada located at Baner to give training to officers from Pune and Pimpri Chinchwad Municipal Corporation (PCMC), Pune Metropolitan Region Development Authority (PMRDA), Maha-Metro and Pune Mahanagar Parivahan Mahamandal Limited (PMPML).
Maha-Metro's managing director Brijesh Dixit; additional commissioner from PMC,Prerna Deshbhratar; Consul General of the republic of Singapore Ajit Singh and chief executive officer of Singapore Cooperation Enterprise, Kong WY Mun, were present for it.
Kong Mun said that as cities across world have become urbanised, public infrastructure such as roads and transportation network need to be progressively upgraded to make city livable. "City planners also need to look towards multi-modal integration where commuters can connect seamlessly across different modes of transportation to reach their final destination. Already Pune and Singapore are thinking on this line and this workshop would help increase the orientation for it," he said.
Dixit said, "Maha-Metro rail corporation plays a pivotal role in the execution of this programme and is set to also benefit from it in line with its plans for multi –modal integration of the Pune Metro. The key factor for the success of any Metro especially in a city like Pune is multi-modal integration.This ensures increased ridership for the Metro rail systems and also exploit various non-fare revenue initiatives, for long-term self –sustainability of the Metro."
In the case of Pune, multi –modal integration of the Metro would be with Railways, Buses, BRTS other modes of transport.
Temasek Foundation International is a Singapore-based non –profit philanthropic organisation that funds and supports initiatives that aim to build capabilities as Asia. SCE is a Singapore government agency with the power to enter into Memorandum of Understanding (MoU) relating to public sector collaboration projects with other foreign governments and their states.